Shots for Higher Edn Students: Half yet not registered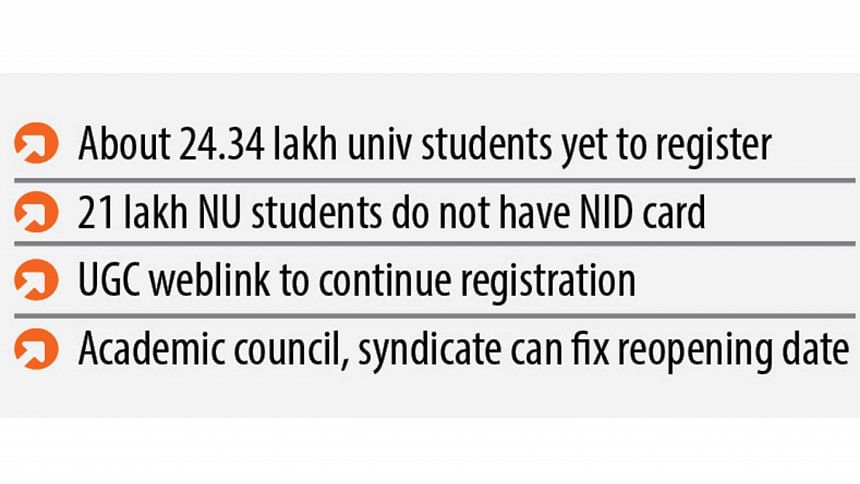 Although the government said any university or its affiliated colleges could resume in-person classes if all their students completed the Covid-19 vaccine registration by yesterday, more than half the tertiary-level pupils across the country failed to do so within the deadline.
Most students do not have their national identification (NID) card, which is mandatory for vaccine registration through the government's Surokkha app.
The University Grants Commission (UGC) opened a weblink for such students to enable them to use their birth certificates to register. But a large number of them have not used the link yet, several top UGC officials told The Daily Star yesterday.
UGC Chairman Prof Kazi Shahidullah, however, thinks resuming in-person classes at universities and their affiliated colleges will not be a big challenge.
"The Covid-19 infection rate has come down significantly. It is now under five percent. If universities can ensure health guidelines properly, they can resume classes upon approval of their academic councils and syndicates," he said.
UGC Member Prof Muhammed Alamgir hoped that a huge number of students would get their first dose of the vaccine as the government today conducts a special daylong campaign aiming to inoculate 75 lakh people.
UGC officials said about 24.34 lakh students -- around 54 percent of the total 44.34 lakh studying in universities and their affiliated colleges -- did not register with Surokkha or the UGC weblink until yesterday.
Most of those students are from colleges under the National University. So, reopening those colleges would be a challenge, said a UGC member, adding that the registration rates among public and private university students were comparatively better.
On August 26, a meeting attended by officials of the two education ministries and other stakeholders had decided that in-person classes at universities and their affiliated colleges would resume from mid-October after vaccinating all students by September.
The government later moved away from the stance. On September 14, it said any university can resume in-person classes if all its students complete the online registration by September 27.
REGISTRATION
One-hundred and seven private universities, 50 public universities and their affiliated colleges have 44.34 lakh students in total, according to the latest UGC annual report.
There are about 3 lakh students at public universities, excluding the National University, the Open University, Islamic Arabic and medical universities.
The private universities have some 3.50 lakh students and colleges affiliated with universities including National University have 37.84 lakh students.
About 90 to 95 percent of about 15,300 public university teachers have received both doses of the vaccine, said UGC officials.
UGC acting secretary Ferdous Zaman yesterday afternoon said about 18 lakh students have so far registered for the vaccination with the government app.
Of them, about 5 lakh students received the first dose and 1.5 lakh got both doses, he said.
UGC officials said most of the students not registering were from the NU.
Contacted, NU Registrar Mahfuz Al-Hossain said at least 21 lakh students of colleges under the university did not have NID cards.
"These students are facing trouble while registering for the jab. We have instructed all students to register with UGC-provided weblink," he said.
The UGC had asked all public universities to provide it with the number of students without the identification card. Till Sunday, 35 public universities informed the UGC that 15,093 students did not have the card.
Meanwhile, 48 private universities informed the UGC that about 21,000 students did not have the NID card, said UGC sources.
In line with a decision of the meeting on September 14, UGC opened the weblink where university students without NID cards can register and then the UGC would forward lists with their details to the health authorities.
After that, those students will be able to complete the registration using the government's Surokkha app.
UGC had asked all students to complete their registration by visiting the weblink by today. UGC Member Prof Sazzad Hossain yesterday said around two lakh students registered with the link.
"The registration process using the weblink will continue," he said.
PUBLIC UNIVS PREPARE FOR REOPENING
Dhaka University on Sunday reopened the central and other libraries for masters and honours fourth year students, who had received at least one dose of the vaccine. .
It will reopen dormitories for such students on October 5.
On Friday, Bangladesh Agricultural University reopened its halls for students of masters and honours final year. They will also have to take at least one dose.
Patuakhali Science and Technology University is set to resume in-person classes for vaccinated students of masters and honours seventh semester from September 30.
The government resumed in-person classes at all schools and colleges on September 12 following a Covid-induced closure of about 18 months.
About 1.5 lakh students of medical, dental colleges and other health institutions went back to the classroom on September 13 after taking both doses of the Covid vaccine.