Lalmonirhat school ground now tobacco-free after Daily Star report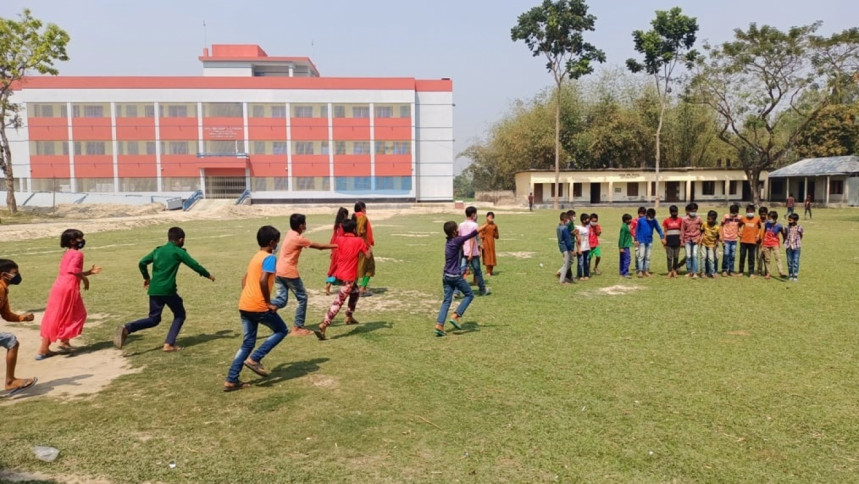 The long-running problem of drying and processing tobacco leaves on school grounds in Lalmonirhat came to an end after a report was published in The Daily Star on Monday (March 14, 2022).
Durgapur High School and Durgapur Govt Primary School, under Aditmari upazila of Lalmonirhat, have 25 teachers and around 500 students who are now relieved because the school ground is now tobacco-free.
After the report titled "School ground turns tobacco drying field" was published in The Daily Star, a High Court bench of Justice Farah Mahbub and Justice SM Maniruzzaman issued a suo moto rule and directed the concerned authorities to take the necessary steps to prevent tobacco leaves from being dried and processed on the grounds of academic institutions across the nation.
Following the court order, the local administration along with the teachers removed the tobacco leaves from the premises of Durgapur Government Primary School and Durgapur High School.
Students of the two schools were seen playing on the ground today.
Hasna Hena, a teacher at Durgapur Government Primary School, told The Daily Star that they are now happy that this long-running problem has come to an end.
"There is no tobacco, no stench of tobacco. We can all play on the school ground. We can now study properly in our classrooms," said Roksana Parveen, a class five student of the primary school. 
Sheuli Khatun, a class eight student, told this correspondent that it is now essential to construct a boundary wall around the school ground.
Razia Parveen, head teacher of the primary school, said they had tried hard to resolve the issue but failed. "Finally, the High Court's order following The Daily Star report has resolved the issue. The school ground is unprotected as there is no boundary wall. If a wall is built, the school ground will be protected," she said, adding, "We and our students are very happy to have a tobacco-free school ground."
Sahidul Islam, the head teacher of Durgapur High School, told this newspaper that due to funding shortage, it is not possible to build a wall around the school ground right now. "We must keep a close eye so that tobacco cannot enter the school premises," he said.