Sylhet Medical students withdraw strike as police detain two attackers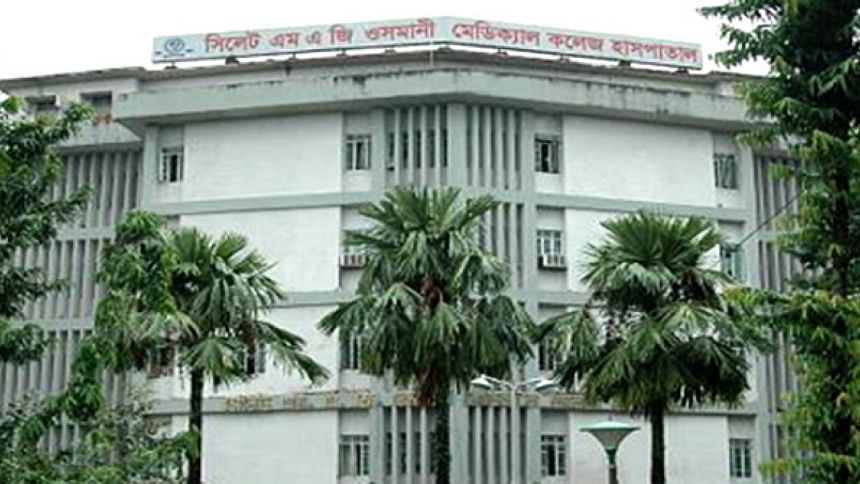 After detaining two people in connection with the attack on Sylhet MAG Osmani Medical College Hospital students, protesting students have temporarily suspended their protest and withdrew the blockade.
At around 2:45am today (August 2, 2022), they suspended their protest until 2pm today, and withdrew the roadblock at Kajalshah area in front of the college and the hospital director's office, reports our local correspondent.
The detainees are Muhid Hasan Rabbi, general secretary of ward-3 unit of BCL in Sylhet city, and his associate Ehsan Ahmad, our Sylhet correspondent reports quoting Azbahar Ali Sheikh, deputy commissioner of Sylhet Metropolitan Police.
"As police detained two and assured us of arresting the others involved, we are suspending our protest temporarily. The college authority also assured they would file a case and ensure the safety of students on campus," said Amit Hasan, a college student.
Azbahar Ali Sheikh, deputy commissioner of Sylhet Metropolitan Police, said, "Two people involved in the attack have been detained while the rest have been identified and will be detained soon. Additional police will also be deployed in the college campus to ensure security."
On Sunday, a female intern doctor was harassed by two attendants of a patient, who were later handed over to police. Following the incident, miscreants attacked medical students last evening, claimed the students.
The injured medical students Rudra Nath and Naimur Rahman Emon are undergoing treatment at the hospital.
Protesting the attack, students and interns went on strike outside the campus from 10pm last night (August 1, 2022).
The protesting students confined the hospital's Director Brig Gen Mahbubur Rahman Bhuiyan in his office as of 1am today, said Shah Owasim, one of the protesting students.