At least 27 DU students tortured on campus in 2022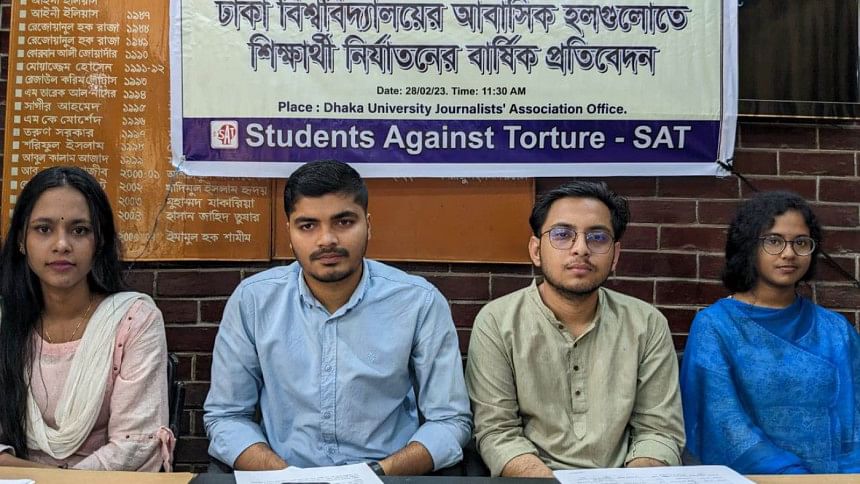 At least 27 students of Dhaka University were tortured either physically or mentally at its six halls just last year, with most of the incidents being perpetrated by activists of Chhatra League, the students front of the ruling Awami League.
The information was revealed in a report by Students against Torture (SAT), a newly-formed students' rights organisation.
The report was presented at a press briefing at the office of Dhaka University Journalists' Association (DUJA) today.
Teaching "manners" for not attending political programmes and breaching "rules" are among the reasons behind their actions, it said.
The authorities have not yet taken any action in connection with assaults on 23 students, it said, adding that the administration had taken "so-called" action in only four cases.
SAT Founder Saleh Uddin Sifat said 20 incidents of torture on students were reported just last year.
Saleh is also a former office secretary of DU's Chhatra Adhikar Parishad.
Apart from these 27 victims, three campus correspondents were also assaulted and the authorities remained silent in those cases as well, the report said.
The organisation made the report based on reports published in various newspapers and online portals from January 1, 2022 to December 31, 2022.
Denying the allegation against DU BCL, Tanbir Hasan Shaikat, its general secretary, said, "Sometimes unexpected incidents occur in dormitories. Some unfamiliar organisations are bringing allegations against us by spreading propaganda. Are they following the right methodology to make the report?"
Asked, DU Proctor Prof AKM Golam Rabbani said, "We were not informed about such report and I have questioned why the authorities' permission was not taken to prepare such a report. We are trying to understand their [the organisation's] intentions."