BAPEX calls jobseekers for written test after 8 years!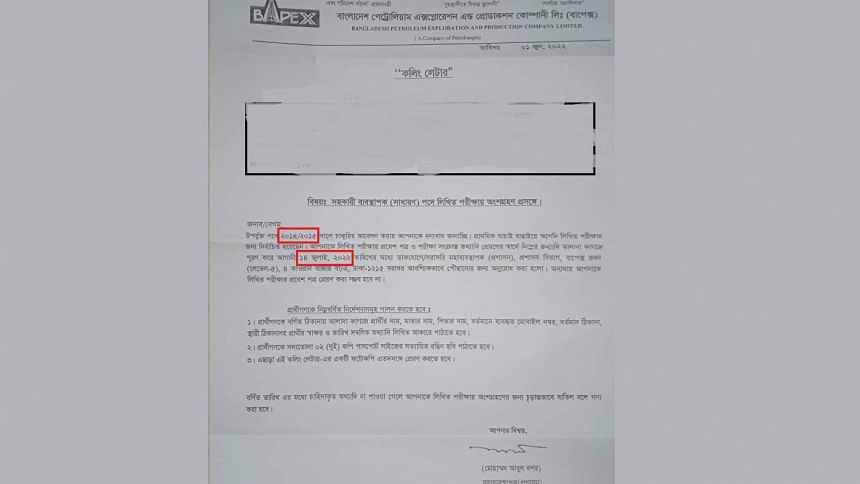 Bangladesh Petroleum Exploration and Production Company Limited (BAPEX) has called jobseekers for a written test – for assistant manager post – nearly eight years after they applied.
"Thanks for applying for the above posts in 2014/15. You have been selected for the written test after primary evaluation," the letter, signed by Md Abul Bashor, general manager (admin) of BAPEX, sent to jobseekers on June 1 reads.
The letter asks them to submit personal details, photos and copy of the "calling letter" to BAPEX building in Dhaka's Karwan Bazar by July 14, 2022. 
"Otherwise, it will not be possible to send you an admit card for the written test," the letter adds.
Motaleb Hossain, who is now a senior officer at a state-run bank, is one of the recipients of the letter.
"I completely forgot that I had applied for the post. I was dumbfounded when a student who stays in the hall where I resided as a DU student informed me about the letter," Motaleb, a former student of Dhaka University, told The Daily Star.
Many of the applicants have gotten married and are now parents. Many, of course, are working at government and private organisations, several jobseekers said.
"It is a demonstration of sheer negligence of the BAPEX authorities. My age limit for the job expired in 2016. How can I still sit for the exam?" wondered another jobseeker.
"I can only recall that I applied twice for the post in 2014 and 2015. I thought the exams had taken place and I somehow didn't get the admit cards," said Abdur Rahman, who applied for the job.
He came to know about BAPEX's call for written test after seeing the photo of the "calling letter" posted by one of his friends on social media.
Rahman is trying to communicate with the current residents of his former room at university hall to know whether any such letter was issued for him too.  
Contacted, BAPEX General Manager Abul Bashor said the delay may have happened due to "administrative complications".
"We called for the written test as the complication has been resolved," he said.
Asked about the aforementioned concerns of the jobseekers, Bashor said, "What can I do now?"