US wants 'lasting' footprint in Syria
Says Trump days after vowing to leave the war-torn country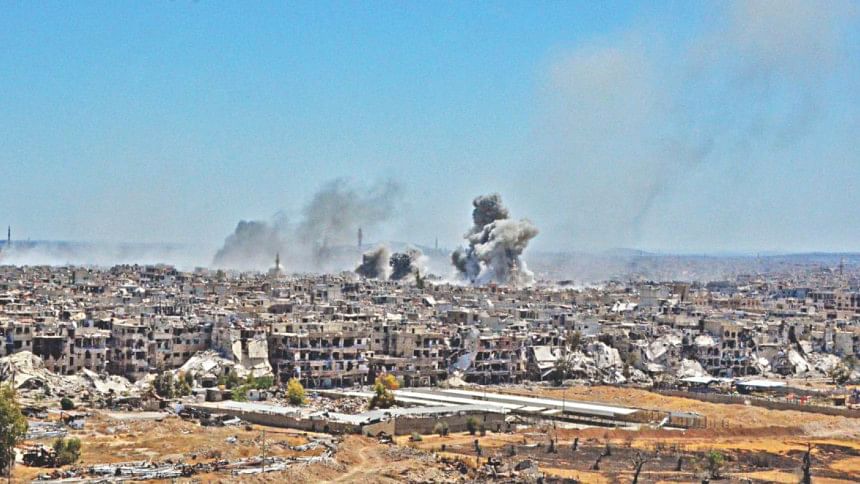 Donors pledge $4.4 billion in aid for 2018: UN

Forces retake new region outside capital
US President Donald Trump appeared to dial back a promise to withdraw US troops from Syria immediately, saying it was important to not allow Iranian influence to grow in the country.
Stating that troops would be coming home soon, Trump nonetheless said that the United States wanted to "leave a strong and lasting footprint " in the country.
"We don't want to give Iran open season to the Mediterranean," Trump told a joint press conference with his visiting French counterpart Emmanuel Macron.
Meanwhile, UN yesterday said that international donors will pledge $4.4 billion  in aid of the Syrian conflict at a Brussels conference, well short of the amount hoped for.
"I want particularly to thank the EU, Germany and the United Kingdom who have made exceptionally large pledges today," Mark Lowcock, the head of UN aid agency UNOCHA said.
Pledges of a further $3.3 billion for 2019 were expected at the conference, which groups more than 80 countries, aid groups and agencies, he added.
The money is needed for humanitarian work inside Syria and to support refugees in neighbouring countries, the UN says.
The UN official had earlier told AFP he hoped to see $8 billion pledged on Wednesday, warning that some programmes may need to be cut if funds are not forthcoming.
On the ground, regime yesterday moved towards sealing its grip on the capital as it retook a new region outside Damascus from rebels and pounded its southern districts to oust jihadists.
The regime took control of Eastern Qalamun northeast of the capital yesterday, state media said, after buses ferried out the last rebels under an evacuation deal.
At the same time, regime air strikes and rocket fire pounded southern areas of the capital held by the Islamic State jihadist group after regime raids there killed six civilians overnight.
On the diplomatic field, EU yesterday urged Russia and Iran to pressure Damascus to engage in talks to end the seven-year long bloody civil war.
EU diplomatic chief Federica Mogherini said Moscow and Tehran, President Bashar al-Assad's key supporters, had a duty to help wind down the war, now in its eighth year.
Some 6.1 million people are now internally displaced in Syria, more than five million have fled the country and 13 million including six million children are in need of aid, according to the UN.