US, Israel ties hit new low
Obama tells Netanyahu US to 'reassess' policy on Israel, ME diplomacy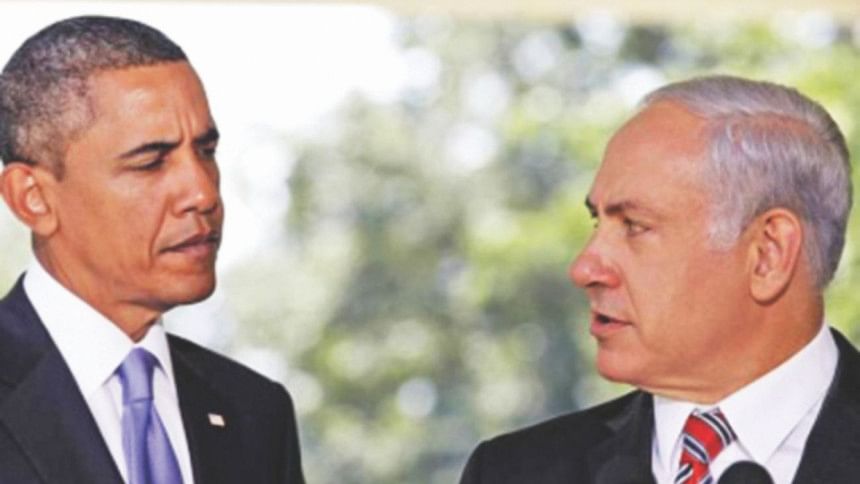 President Barack Obama told Benjamin Netanyahu on Thursday that Washington would "reassess" its options on US-Israel relations and Middle East diplomacy after the Israeli prime minister took a position against Palestinian statehood during his re-election campaign, a White House official said.
Obama's telephone call to Netanyahu followed a television interview in which the Israeli leader backed away from his pre-election declaration that there would be no Palestinian state on his watch, an about-face apparently aimed at quelling US criticism triggered by his comments.
The White House, unmoved by Netanyahu's effort to backtrack, delivered a fresh rebuke against him on Thursday and signaled that Washington may reconsider its decades-old policy of shielding close ally Israel from international pressure at the United Nations.
An official statement put out later in the day said Obama called Netanyahu to congratulate him on his election win and used the opportunity to reaffirm his commitment to a two-state solution, a longtime cornerstone of US policy on the Middle East conflict.
But Obama also delivered a blunt message that underscored the seriousness of the US-Israel rift. "The president told the prime minister that we will need to reassess our options following the prime minister's new positions and comments regarding the two-state solution," the White House official said, speaking on condition of anonymity.
White House spokesman Josh Earnest warned earlier that there would be "consequences" for Israel as the Obama administration monitors the formation of Netanyahu's new ruling coalition.
"He walked back from commitments that Israel had previously made to a two-state solution," Earnest told reporters. "It is ... cause for the United States to evaluate what our path is forward."
The harsh US response signaled that relations with Israel, already at their lowest point since Obama took office, could deteriorate further as an end-of-March deadline looms in US-led nuclear diplomacy with Iran that Netanyahu vehemently opposes.
Among the most serious risks for Israel would be a shift in Washington's posture at the UN. US has long stood in the way of Palestinian efforts to get a UN resolution recognizing its statehood, including threatening to use its veto, and has protected Israel from efforts to isolate it internationally.