UNHCR: Release Roghingya refugees from detention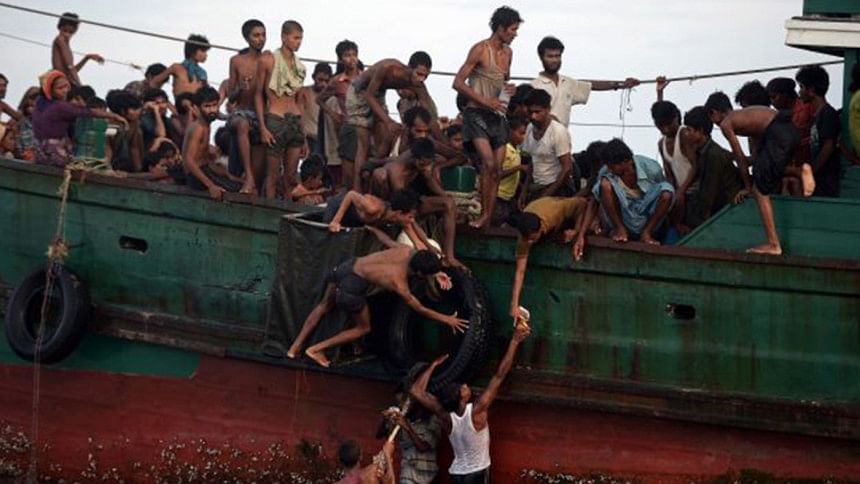 The Rohingya refugees who arrived in Malaysia after being stranded in the Bay of Bengal a year ago must be released from detention, says United Nations High Commissioner for Refugees (UNHCR).
UNHCR Malaysia representative Richard Towle said the refugees needed to be looked after properly and this could not be done effectively or fairly in the immigration detention system.
"That's why after the Bay of Bengal crisis we have been saying give us access, let them out of detention and we will look after them," Towle told reporters after the launch of Odysseys: A Photographic Exhibition of the Asia and Europe refugee crises by Agence France-Presse (AFP) in Kuala Lumpur on Wednesday.
The refugees from Bangladesh and Myanmar arrived by boat after being stranded in the Bay in May last year.
They were abandoned by human trafficking syndicates following the discovery of mass graves and detention camps in Thailand and Malaysia.
Of the 371 Rohingya refugees accepted into Malaysia last year, 36 have been resettled to the United States and the rest still languishing in detention centres.
Towle said there have been no major boat arrivals of refugees from the Rakhine state in Myanmar in the past year, but warned that the situation could happen again.
He acknowledged that some of the governments in the region were trying to put in place cooperation arrangements to be better prepared of future incidents.
The Rohingya are considered by the United Nations as one of the most persecuted minorities in the world, often subjected to arbitrary violence and forced labour in Myanmar.
They come mainly from the Rakhine state in Myanmar, which borders Bangladesh.
To escape persecution, they take long and arduous journeys by boat to other countries in the region.
As of April this year, there are 53,410 Rohingya refugees registered with the UNHCR in Malaysia.
Copyright: The Star Online/ Asia News Network