3 cops shot dead in Baton Rouge, gunman killed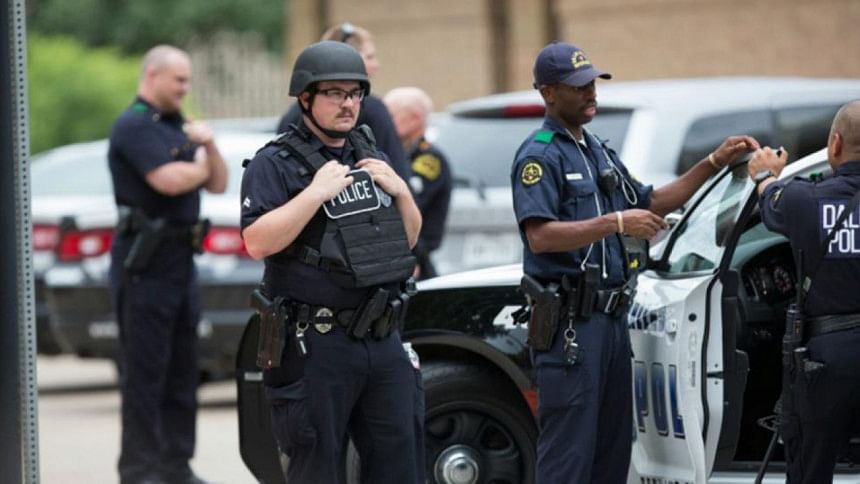 Three police officers were shot to death and three others wounded in Baton Rouge, Louisiana today, the city's mayor said, as the country remained on edge in the wake of police shootings of black men and the killings of five Dallas officers.
One suspect is dead and two others may still be at large., a Louisiana State Police official told NBC.
The officers in Baton Rouge were responding to a call of shots fired when they were ambushed by at least one gunman, Mayor Kip Holden told NBC News. 
A spokesman for the East Baton Rouge Sheriff's Office said police and sheriff's deputies were involved in the shooting incident. "Multiple officers from both agencies sustained injuries and were transported to local hospitals," he said in an email. He said there were no firm numbers on the number hurt or the extent of injuries.
While the scene of the shootings was contained, police warned residents to stay away from the area, near Airline Highway, which is a mile from the Baton Rouge Police Department headquarters, where dozens of protesters were arrested earlier this month.
Two nearby hospitals were on lockdown, CBS reported. Efforts to confirm the report were not immediately successful.
The reports come a week after a wave of protests against police violence in Baton Rouge and other cities after a 37-year-old African-American father of five was shot and killed at close quarters by law enforcement officers. At one of the demonstrations in Dallas, a gunman opened fire on white officers assigned to the protest, killing five of them.
The Black Lives Matter civil rights movement has called for police to end racial profiling, bringing the issue to national attention ahead of the Nov. 8 US presidential election.
The Justice Department, which has opened a federal probe into Sterling's death, declined to comment on Sunday's shootings.
A White House official said President Barack Obama has been briefed on the shooting of police officers in Baton Rouge and will be updated throughout the day. The official added that the White House has also been in contact with local officials and has offered assistance.
Trump blames Baton Rouge shooting on 'lack of leadership'
Republican Donald Trump responded to the killing of three police officers in Louisiana on Sunday by renewing his call for greater leadership and "law and order."
"We grieve for the officers killed in Baton Rouge today. How many law enforcement and people have to die because of a lack of leadership in our country?" Trump, the party's presumptive presidential nominee posted on Facebook. "We demand law and order."