Sweden brings in migrant border checks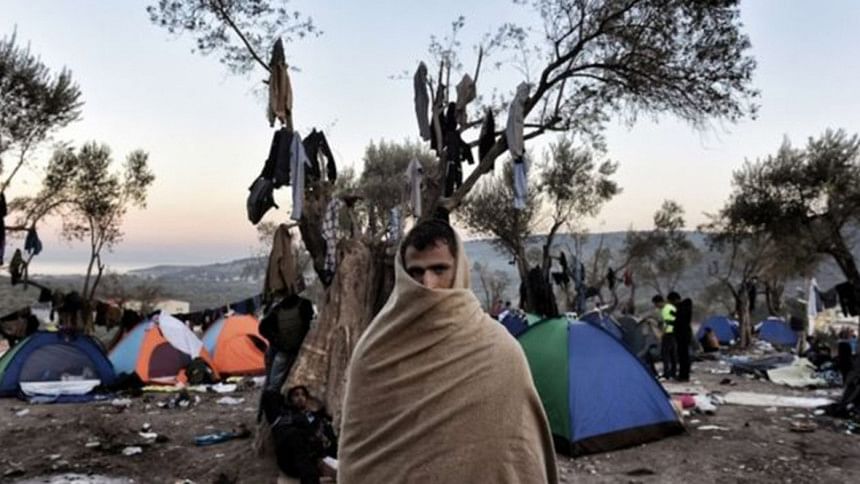 Sweden has announced the introduction of temporary border checks to control the flow of migrants into the country.
Swedish Interior Minister Anders Ygeman said the step had been decided after police warned a surge in new arrivals posed a threat to public order.
The controls will come into effect from midday local time on Thursday and will last initially for 10 days.
It came as EU and African leaders gathered in Malta to discuss measures to stem the flow of people into Europe.
On the day the summit began, 14 migrants drowned in the latest boat sinking between Turkey and the Greek island of Lesbos.
Seven of those who died were children. Coastguards said they had rescued 27 survivors.
Nearly 200,000 migrants are expected to reach Sweden this year, more per head of population than any other EU nation.
Ygeman said the centre-left government had acted "in order to obtain security and stability... not to limit the number of asylum seekers, but to get better control of the flow of asylum seekers to Sweden".
He added: "Our signal to the rest of the EU is crystal clear - Sweden is the country that has shouldered the greatest responsibility for the refugee crisis.
"If we are to cope with this mutual challenge, the other countries must take their responsibility."
Swedish immigration officials say the introduction of temporary border controls will help them register new arrivals and prevent people from staying in the country illegally.
Fredrik Bengtsson, spokesman for the Swedish Migration Agency, said it was currently picking up people by bus at the border and driving them to its offices, but "once they get there quite a lot don't enter and get registered but disappear".
Cash for help
The summit of EU and African leaders in the Maltese capital Valletta was planned after about 800 people died in a migrant boat sinking off Libya in April.
The UN says nearly 800,000 migrants have arrived in Europe by sea so far in 2015, while some 3,440 have died or gone missing making the journey.
Some 150,000 people from African countries such as Eritrea, Nigeria and Somalia have made the dangerous journey across the Mediterranean from Africa so far this year, arriving mainly in Italy and Malta.
But this has been dwarfed by the arrival of some 650,000 people - mostly Syrians - via Turkey and Greece.
BBC world affairs reporter Richard Galpin says the crisis has evolved so quickly since this year that European leaders have been struggling to keep up and formulate any coherent policies.
At the two-day Malta summit, EU leaders are offering countries in Africa billions of euros in exchange for help with the migrant crisis.
The aim is to tackle the economic and security problems that cause people to flee, and persuade African countries to take back more failed asylum seekers.
African leaders are insisting on a much clearer path for smaller numbers of their citizens to migrate officially to Europe, in exchange for help on the crisis.
Deep divisions
Tensions in the EU have been rising because of the pressures faced by those countries where most migrants initially arrive, particularly Greece, Italy and Hungary. Most migrants then head to Germany or Sweden - the two nations regarded as the most welcoming to refugees - to claim asylum.
EU leaders have agreed a controversial programme to relocate thousands of migrants - but so far only about 130 have been successfully moved from Greece and Italy.
Other developments on Wednesday highlighted deep divisions between EU members on the migrant issue.
Hungary was bitterly critical of Germany's announcement that it planned to send more Syrian refugees back to the first EU country they had entered, after reinstating the EU's Dublin Regulation on asylum. Berlin said this would not include Greece, the first point of entry for most migrants.
Hungarian Foreign Minister Peter Szijjarto said: "The Dublin system is dead."
He also accused German politicians of making "irresponsible statements" which some migrants had interpreted as an invitation to come to Europe.
Meanwhile, Slovenia began building a razor-wire fence along its border with Croatia, a day after the government said it would install "temporary technical obstacles", but stressed official border crossings would remain open and that the move was designed to restore order.
Croatia criticised the Slovenian fence, saying it would be better to spend money on preparing reception centres for migrants.