Pakistani activist murdered in Karachi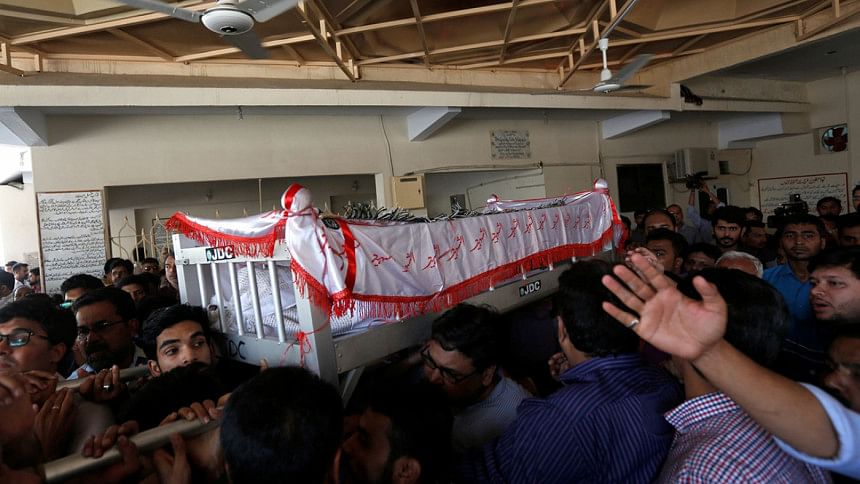 A prominent Pakistani journalist and human rights activist, Khurram Zaki, has been shot dead in Karachi.
Zaki was dining in a restaurant in the city's north when suspects opened fire from motorbikes, reports say.
He was an editor of the website Let us Build Pakistan, which condemns sectarianism and is seen as promoting democratic and progressive values.
The spokesman for a splinter group of the Pakistani Taliban has said they were behind the shooting.
He said they killed him because of his recent campaign against a cleric of the Red Mosque in Islamabad.
Zaki and other campaigners had filed a court case charging Abdul Aziz with incitement of hatred and violence against the Shia minority.
The case was brought in response to the cleric's refusal to condemn attacks such as that on a school in Peshawar in 2014 in which 152 people, most of them schoolchildren, were killed.
Two other people were badly wounded in the Karachi attack, on Saturday night - a friend who Zaki was dining with and a bystander.
Staff at the website paid tribute to their murdered colleague, and vowed to continue to stand up against militant groups.
Their statement said his contribution as a citizen journalist in supporting the rights of minority groups was "much bigger than [that of] all journalists combined in Pakistan".
"His death is the grim reminder that whoever raises voice against Taliban [and other militant groups] in Pakistan will not be spared. And when they have to murder, they never fail."