Pakistan dismisses 12 army officers from service over 'corruption'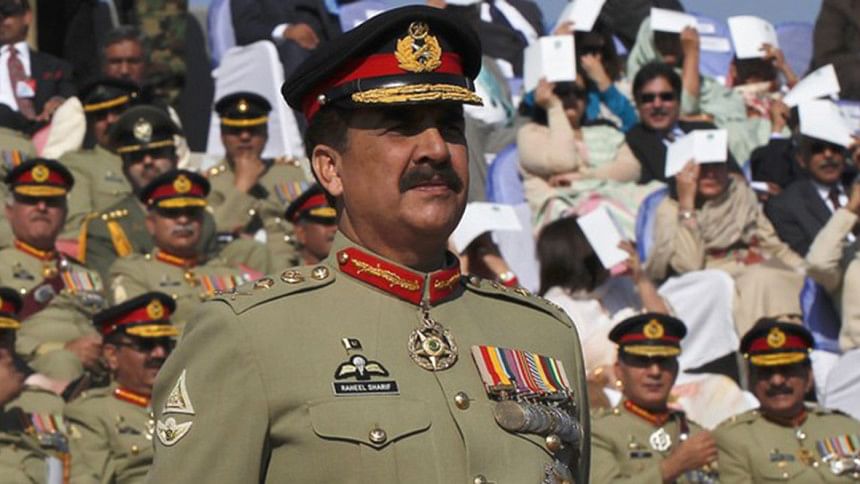 In an unprecedented move, Pakistan Chief of Army Staff General Raheel Sharif dismissed 12 army officers, including a three-star general, from service over alleged corruption today.
A major general, lieutenant colonel, five brigadiers and a major are among those dismissed from service, said an intelligence official speaking to DawnNews on condition of anonymity.
Sources say the following officers are among those dismissed:
---
 - Lt Gen Obaidullah, Inspector General Arms and Weapons at General Headquarters
 - Maj Gen Ejaz Shahid
 - Brigadier Rasheed
 - Brigadier Asad Shahzada
 - Brigadier Saifullah
 - Brigadier Amir
 - Brigadier Haider
 - Lt Col Haider, Commandant Chaman Scouts
 - Maj Najeeb
---
The eight officers named above served with the Frontier Corps (FC) Balochistan and have been charged for corruption during their service with the paramilitary force. The others dismissed were junior commission officers who worked with those named above, said the intelligence official.
Following the investigation conducted by Adjutant Gen Zubair Mahmood Hayat on the orders of the army chief, the charged officers were asked to return all earnings accumulated through corruption, the official said, adding that all perks and privileges had been withdrawn from the officers except their pensions.
Lt Gen Obaidullah also served as IG FC from 2010-2013, after which Maj Gen Ejaz Shahid was appointed IG FC, intelligence sources said.
There has been no official confirmation regarding the move.
The development comes two days after the COAS said "across the board accountability is necessary for the solidarity, integrity and prosperity of Pakistan", adding that the war against terror cannot be won unless "the menace of corruption is uprooted".
Gen Raheel said "Pakistan's Armed Forces will fully support every meaningful effort in that direction which would ensure a better future for our next generations."
The army chief's call for across-the-board accountability comes as Prime Minister Nawaz Sharif is embroiled in the explosive Panama Papers which count his family among other global political elite with undeclared offshore assets.
Opposition leaders have demanded a probe into the scandal, with some calling for the PM to step down.
Quarters close to the PM's Office say PM Nawaz is determined to have his three children cleared of accusations of money laundering and tax evasion in the aftermath of Panama Papers leak.
Copyright: Dawn/ Asia News Network