Scottish MPs to take part in Syria air strikes debate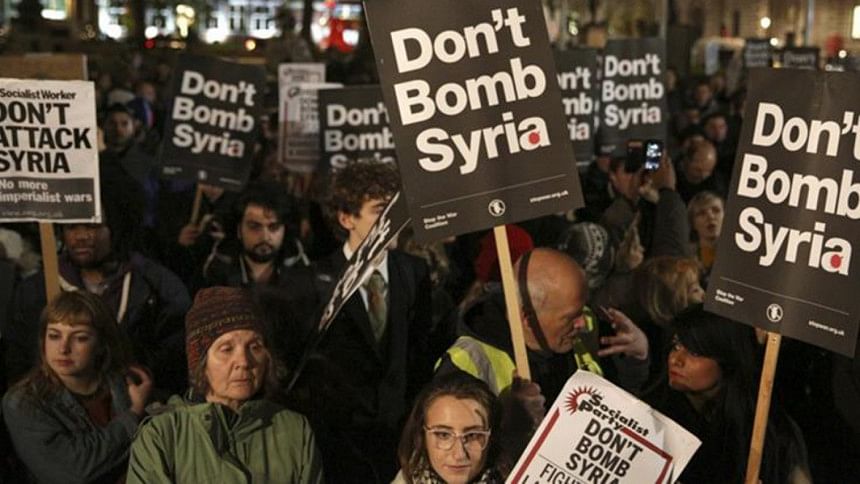 Scottish MPs will take part in the Commons debate and vote later on whether the UK should launch air strikes against so called Islamic State targets in Syria.
Nicola Sturgeon confirmed the SNP would vote against military action.
Labour's only Scottish MP Ian Murray will also oppose air strikes.
Former Scottish Secretary Alistair Carmichael has said he will back David Cameron's motion, along with his Liberal Democrat colleagues.
On Tuesday evening, the prime minister urged Tory MPs not to "sit on their hands" and to take a stand on fighting terror.
Labour leader Jeremy Corbyn has said bombing is not a sensible way to bring peace to Syria.
He has been forced to offer a free vote to his MPs after a shadow cabinet rebellion.
'Honest difference of opinion'
The Commons timetable has been cleared for a 10 hour-plus debate before a crunch vote at about 22:00.
The government motion says military action is "only one component of a broader strategy" to tackle IS.
It adds that the UK government will not deploy troops in "ground combat operations". The motion would specifically authorise air strikes "exclusively" against IS in Syria.
At least 110 MPs from six different parties have signed up to an amendment seeking to block air strikes - spearheaded by Tory Foreign Affairs Committee member John Baron and the SNP's Westminster leader Angus Robertson.
SNP leader and Scotland's First Minister Sturgeon outlined her party's stance during a briefing of journalists on Tuesday.
She said Cameron had made progress in convincing sceptics but the SNP remained concerned about the lack of reliable ground troops and the need for post-conflict reconstruction in Syria.
She said there had been "an honest difference of opinion" with Cameron.
The Liberal Democrats said their eight MPs, including Carmichael, would support the government in the vote.
The MP for Orkney and Shetland described it as the ''hardest political decision of my life'' but said supporting military action was the right thing to do.