Russia test-fires 'ideal' hypersonic missile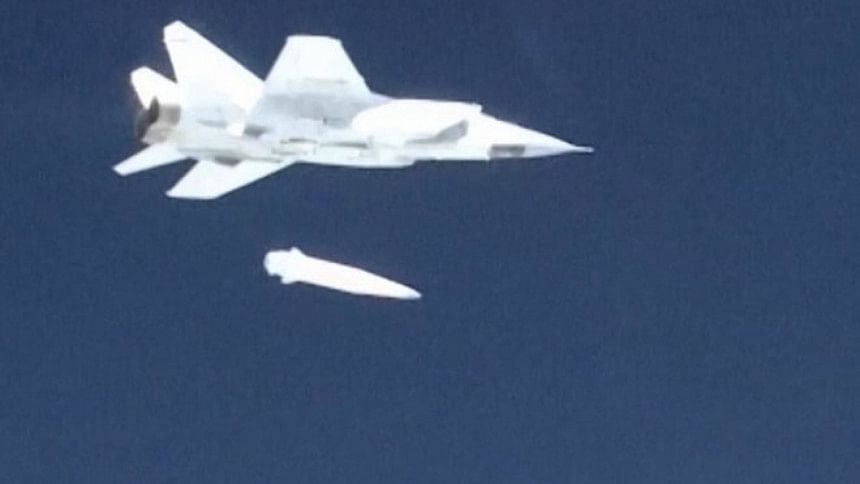 Russia said Sunday it successfully launched a hypersonic missile which President Vladimir Putin called "an ideal weapon" as he unveiled a new array of next-generation arms earlier this month.
The high-precision Kinzhal (Dagger) missile was launched from a MiG-31 supersonic interceptor jet that took off from an airfield in the South Military District in Russia's southwest, the defence ministry said.
"The launch went according to plan, the hypersonic missile hit its target," the ministry added.
The ministry released video footage showing two pilots gearing up for a flight and then running towards a jet with a large missile slung beneath its underbelly.
Set to rousing, patriotic music, the video then shows a missile detaching from the airborne plane and gliding across the dark sky, leaving a fiery trail behind.
The Kinzhal missile was one of an array of new weapons Putin unveiled in his state-of-the-nation address earlier this month, ahead of a presidential election on March 18 that he is all but guaranteed to win.
Putin said the missile flies at 10 times the speed of the sound and can overcome air-defence systems.
The missile has been deployed in the Southern Military District since December 1, he added.
Deputy Prime Minister Dmitry Rogozin said on Facebook that work had also been done to modernise the "unique" MiG-31 supersonic jet that will carry the missile.
Since the start of the year, more than 250 sorties have been carried out by the aircraft to perfect the work of the missile systems, the defence ministry said.