From Russia to sex: scandals shake US first family
A porn star is suing the president. A former Playboy model has apologized to the first lady for sleeping with her husband. The eldest son is divorcing and the scandal-plagued son-in-law's security clearance has been downgraded.
Seventeen months after Hillary Clinton told America that the one thing she respected about Donald Trump was his "incredibly able and devoted" children, any gloss attached to the uber-groomed first family is wearing off.
On election night in November 2016, the entire clan stood on stage, dressed to the nines and beaming after their father pulled off the unthinkable and won the most powerful job on the planet.
Since then, they have been photographed only infrequently all together.
First Lady Melania Trump dealt with porn star Stormy Daniels's prime-time television interview by enjoying spring break with her 12-year-old son in Florida, 1,000 miles (1,600 kilometers) from her husband, who was holed up in the White House.
As the nation reeled from allegations that a 27-year-old porn star spanked the future president's bottom and was likened to his daughter Ivanka, the first lady's spokeswoman urged restraint.
"While I know the media is enjoying speculation & salacious gossip, I'd like to remind people there's a minor child who's [sic] name should be kept out of news stories when at all possible," tweeted Stephanie Grisham on Sunday night.
Asked whether 47-year-old Melania had watched the interview, Grisham told US media: "She's focused on being a mom and is quite enjoying spring break at Mar-a-Lago while working on future projects."
When Trump moved to Washington, his two eldest sons officially stayed behind in New York to run the family business, while Ivanka and her husband, the real estate scion and magazine publisher Jared Kushner, joined him as White House advisors.
Ivanka is photographed on a near-daily basis in a parade of expensive clothes by paparazzi camped outside her Washington home.
She appears to operate largely as a free agent, hand-picking pet projects and representing her father overseas at events such as the Winter Olympics, but she has drawn criticism for standing by her old man over allegations of sexual harassment.
"I think I have that right as a daughter to believe my father," she told NBC News as many women her age jumped on the #MeToo bandwagon.
'Suck it up for now'
While Kushner was once the golden boy, whom Trump said could bring peace to the Middle East, he is reportedly under investigation for trying to get foreign investors to finance his company during the presidential transition and he is implicated in the Russia collusion probe.
Last month, his security clearance was downgraded. While Kushner remains in the White House -- for now -- commentators believe he is increasingly marginalized.
There has also been much tabloid glee over Donald Jr and wife Vanessa filing for divorce and revelations that he romanced a pop star on his dad's reality TV show, until a pregnant Vanessa found out and his father allegedly told him to "knock it off."
"We have this snowball rolling downhill of scandals surrounding Trump himself and his children one way and another," says Katherine Jellison, professor of history at Ohio University.
For the president, rumored infidelity is nothing new. He won the 2016 election despite boasting about groping women. Nor is he the first US commander-in-chief accused of being unfaithful.
Last Thursday, former Playboy model Karen McDougal apologized to Melania for a 10-month affair she claims to have had with Trump in 2006-07.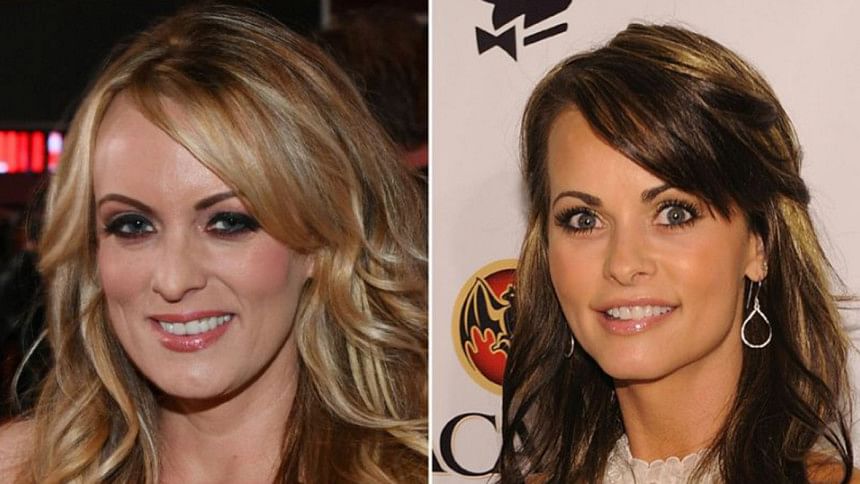 "I'm sorry. I wouldn't want it done to me," she told CNN.
If the first lady has adopted a generally frosty, stand-offish stance, and the couple are believed to have separate bedrooms, few expect the Trumps to bust another presidential taboo and divorce in office.
On March 22, Melania posted a picture of herself with the president at a snowy White House, both of them smiling, on Twitter, which he later retweeted.
Unveiling her cyber-bullying cause on March 20, Trump said of her husband's often-criticized use of Twitter: "It will not stop me from doing what I know is right."
"They are unlike any first family we have ever seen," says Adele M. Stan, an award-winning columnist. If many liberal US women are rooting for Melania to file for divorce, few commentators think she will.
"Melania still has a fair amount of influence if she wants it," said Sam Abrams, political science professor at Sarah Lawrence College. "She may realize it's better to suck it up for now."