Russia 'must stop Syria civilian bombing'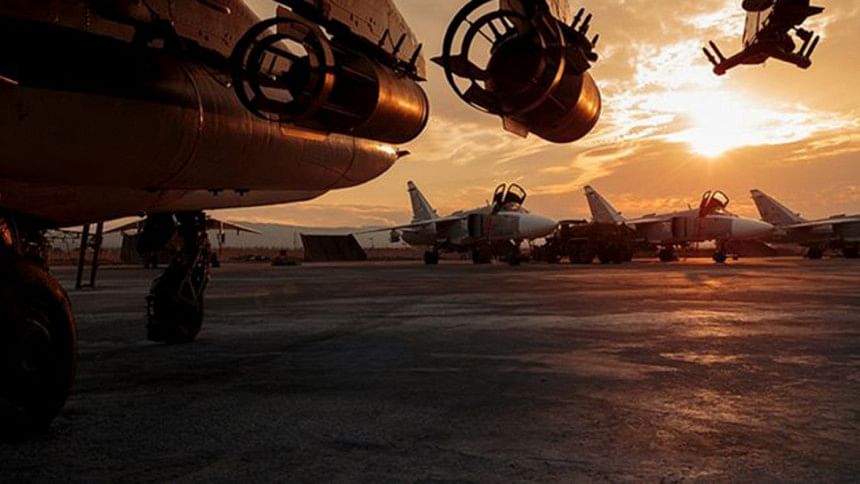 French Prime Minister Manuel Valls has called on Russia to stop hitting civilians in air raids in Syria.
Valls said an end to bombing civilians was the key to peace.
His Russian counterpart Dmitry Medvedev said there was "no evidence of our bombing civilians, even though everyone is accusing us of this".
Late last month, the UK-based Syrian Observatory for Human Rights said at least 1,015 civilians had been killed in Russian air strikes.
Russia, an ally of Syrian President Bashar al-Assad, has consistently denied hitting civilian targets and insists it is battling terrorists.
Valls said his government "respects Russia and Russia's interests" but "that to re-discover the path to peace, to discussion, the Russian bombing of civilians has to stop".
Medvedev said Russia was "not trying to achieve some secret goals in Syria", adding that "we are trying to protect our national interests".
The comments were made at a security conference in Munich, days after world powers agreed a deal to push for a cessation of hostilities in Syria within a week.
Agreement to try to bring about a cessation of hostilities and allow more access for humanitarian aid was reached by world powers late on Thursday in Germany, but neither the Syrian government nor the rebels were involved.
Under the plan, efforts will be made to try to make urgent aid deliveries to besieged and hard-to-reach areas in Syria. Steps will also be taken to work towards an eventual ceasefire and implementation of a UN-backed plan for political transition in Syria.
The halt will not apply to the battle against jihadist groups Islamic State (IS) and al-Nusra Front.
Assad 'deluded'
Rebel groups in Syria have told the BBC they would not stop fighting because they do not believe that Russia will end its bombing campaign in support of the government.
They also reiterated their demand that President Assad be removed from power. On Friday, the president said he wanted to retake "the whole country" from rebels.
But US state department spokesman Mark Toner said Assad was "deluded" if he thought there was a military solution to the conflict.
Syrian government forces, backed by Russian air strikes, have almost encircled rebels in parts of the northern city of Aleppo.
More than 250,000 people have been killed and some 11 million displaced in almost five years of fighting in Syria.
On Saturday, Turkey's Foreign Minister Mevlut Cavusoglu said Saudi Arabia would send war planes to the Turkish air base of Incirlik, from where they would attack militants in Syria from the so-called Islamic State.
Saudi Arabia is already part of the international coalition against IS.
Cavusoglu also said it was possible that troops from his country and Saudi Arabia might participate in a ground operation against IS forces. The US has so far ruled out a ground invasion.
Moscow has warned against any new foreign ground intervention in the country, saying such a development could even lead to a world war.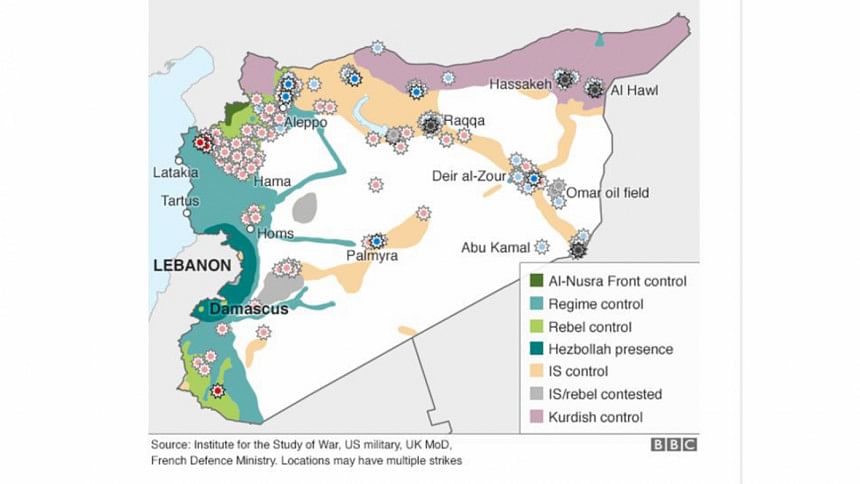 Syria conflict - key questions
Why is there a war in Syria?
Anti-government protests developed into a civil war that, four years on, has ground to a stalemate, with the Assad government, Islamic State, an array of Syrian rebels and Kurdish fighters all holding territory.
Who is fighting whom?
Government forces concentrated in Damascus and the centre and west of Syria are fighting the jihadists of Islamic State and al-Nusra Front, as well as less numerous so-called "moderate" rebel groups, who are strongest in the north and east. These groups are also battling each other.
How has the world reacted?
Iran, Russia and Lebanon's Hezbollah movement are propping up the Alawite-led Assad government, while Turkey, Saudi Arabia and Qatar back the more moderate Sunni-dominated opposition, along with the US, UK and France. Hezbollah and Iran are believed to have troops and officers on the ground, while a Western-led coalition and Russia are carrying out air strikes.