Refugee conditions in Greece 'deteriorating': Angelina Jolie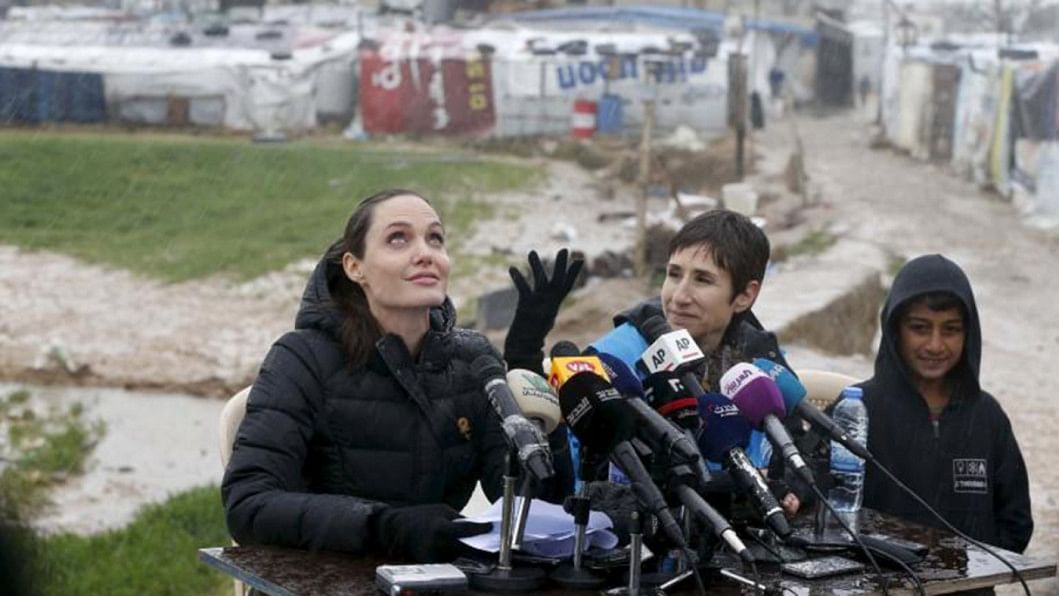 Hollywood star and UNHCR goodwill ambassador Angelina Jolie turned the spotlight of celebrity Wednesday onto the plight of thousands of refugees crowded in camps in Greece.
After visiting a makeshift camp in the port of Piraeus, Jolie said the refugees were stuck in a "deteriorating humanitarian situation" and needed help.
The 40-year-old actress, dressed in a black T-shirt and trousers, spent around 30 minutes at the port, speaking to UN staff and refugees coming to Piraeus from the islands facing Turkey.
Some 4,000 people are packed in terminals and tents there. They are just a fraction of the number of people who are stranded in Greece after the so-called migrant trail, heading from the Balkans up to northern Europe, was closed off by national border controls.
Surrounded by a throng of media, Jolie had difficulty in reaching her car through the crowd but kept her composure as photographers and camera crews jostled for position and refugee children struggled to stay upright.
Angelina Jolie visits Syrian refugees

"We cannot manage the world through aid relief in the place of diplomacy and diplomatic solutions."Angelina Jolie visits Syrian refugees in Lebanon: bbc.in/1VezoIM

Posted by BBC News on Thursday, March 17, 2016
"Watch the kids," she told her security detail.
As she left, dozens of refugees chanted "Skopje, open the borders" in a reference to Macedonia who last week barred passage to all war and poverty exiles, a policy followed by other Balkan states.
Jolie will also be in Greece on Thursday, but her programme has not been announced and it's unclear whether she will travel to the north of the country, where conditions are worse.
"I look forward to meeting authorities, partners and volunteers working on the ground to improve conditions and ensure the vulnerable are protected," she said in a statement about her trip.
"I hope the presence of Angelina Jolie will do something to help open the border," said Bichal, a 23-year-old Syrian woman from Aleppo.
"I've been in Greece for a month and I'm still waiting to cross the border and go to Germany," she told AFP.
Jolie subsequently drove to the camp of Eleonas in Athens which currently houses some 700 people awaiting relocation, visiting families in prefabricated homes.
She then met with Greek Prime Minister Alexis Tsipras, who told her there were "30,000 people trapped in the Greek mainland because of unilateral actions by the countries on the Balkan route."
Overall there are over 43,000 people in the Greek mainland and on the islands.
On Monday, some 1,500 refugees walked out of the Greek frontier camp of Idomeni, where over 14,000 people are languishing in squalid conditions, and tried to walk into Macedonia through an unfenced part of the border.
They were stopped by troops and returned to Greece a day later, some of them claiming to have been mistreated by Macedonian border guards.
The border shutdown has been criticised by Germany but has been applauded by EU President Donald Tusk as part of a "comprehensive" EU strategy to deal with Europe's worst migration crisis since the Second World War.
The EU is pinning its hopes for a solution to the crisis on a summit with Turkey, which is hosting over two million refugees and has permitted another million to sail to Greece, on Thursday.