Modi meets Mahathir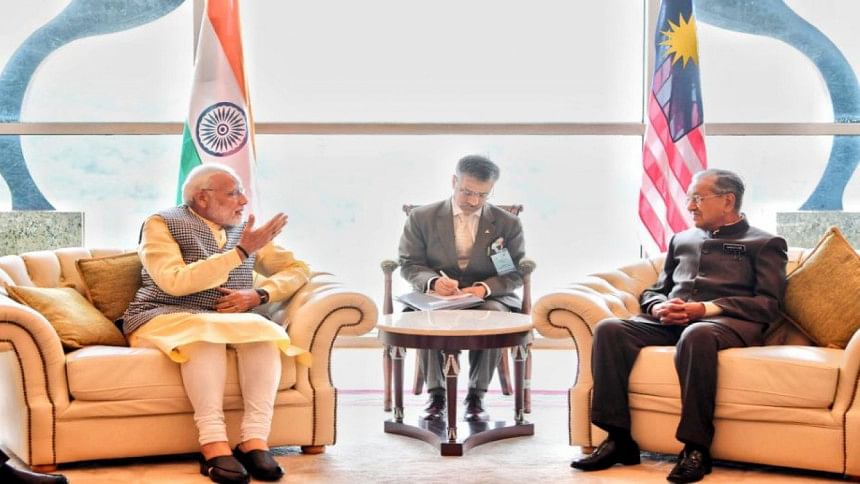 Visiting Indian Prime Minister Narendra Modi had a "productive exchange of views" during a meeting with newly-elected Malaysian Prime Minister Mahathir Mohamad in Kuala Lumpur on Thursday.
"The two leaders had a productive exchange of views on strengthening our strategic partnership," Indian External Affairs Ministry spokesperson Raveesh Kumar tweeted.
"PM congratulated Dr Mahathir on assuming the post of Prime Minister of Malaysia," Kumar said.
Mahathir, who governed Malaysia for more than two decades, became, at the age of 92, the world's oldest elected leader earlier this month.
Ninety-two-year-old Mahathir was sworn in as Malaysia's prime minister on May 10 after leading the opposition alliance to a stunning election victory over the Barisan Nasional (BN) coalition, which had ruled Malaysia since 1957.
Earlier, the Prime Minister's Office said PM Modi would be discussing aspects relating to India-Malaysia cooperation with Mahathir.
"Malaysia is a strategic partner and a priority country in our Act East Policy," Kumar said.
Modi had announced in New Delhi that on his way to Singapore, he will make a brief halt in Malaysia to meet Mahathir and congratulate the new Malaysian leadership.
PM Modi reached Malaysia from Indonesia earlier on Thursday for a brief stopover before leaving for Singapore on his three-nation tour of southeast Asia. In Singapore, PM Modi will deliver a keynote address at the Shangri-La Dialogue, an annual security meet, on Friday.
Copyright: The Statesman/ Asia News Network