Will work together for development
Says Hasina as she and her Indian counterpart open construction of a pipeline between Siliguri, Parbatipur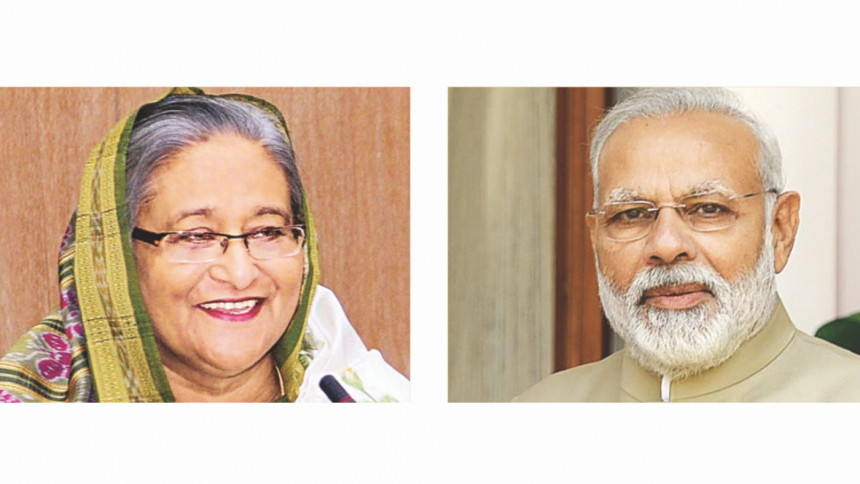 Prime Minister Sheikh Hasina has said she looks forward to continued support from India for the development of Bangladesh.
"I look forward to continued support from the government of India in our development pursuit. I'm quite sure we'll get many such happy events in the days ahead for the welfare of our people," she said, UNB reports.
Hasina and her Indian counterpart Narendra Modi were jointly inaugurating the construction of 130km Bangladesh-India Friendship Pipeline between Siliguri in West Bengal and Parbatipur in Dinajpur.
They opened the work through videoconferencing. Hasina attended the videoconference from the Gono Bhaban while Modi from his office in New Delhi.
The two leaders also inaugurated the construction of the third and fourth dual gauge rail lines of Dhaka-Tongi and Tongi-Joydevpur sections of Bangladesh Railway.
Hasina said the economic development was the biggest challenge for the South Asian countries. "The prospects for economic development will substantially be enhanced through undertaking bilateral projects like this."
She mentioned that the bilateral cooperation between Bangladesh and India has reached a new height over the past few years.
"We're working and will work collectively for the development and prosperity for the people of both countries in new areas, including energy, power, road and rail communications," she said.
Referring to the inauguration together with Modi of the supply of 500MW electricity and two railway projects on September 10 and today's joint projects, Hasina said, "This  intermittent contact between us, I believe, will further cement the ties of cooperation between Bangladesh and India."
She mentioned that an excellent environment of bilateral cooperation has prevailed between the two neighbouring countries since she assumed office in 2009.
She said the train communication in the south-western region through Padma Bridge and in the northern region through Bangabandhu Jamuna Bridge, and on Chattogram-Sylhet routes from Dhaka would be easier and faster once the work on the 3rd and 4th Dual Gauge Line on Dhaka-Tongi section and Double Line on Dhaka-Joydevpur section was completed.
The PM also mentioned that a total of 96kms of dual-gauge tracks along with other necessary infrastructures would be constructed from Kamalapur to Joydevpur railway stations under the project.
About the pipeline, the PM said it was a new milestone in the history of cooperation between the two countries.
"This will be the first such pipeline through which refined diesel will be supplied to Parbatipur depot from Numaligarh of Assam in India."
She mentioned that Bangladesh would initially receive 2.5 lakh tonnes of diesel every year and it would gradually be increased to 4 lakh tonnes.
She also said the first consignment of diesel from India reached Bangladesh in March 2016 through rail wagons.
Hasina expressed her gratitude to her Indian counterpart for his active role in implementing these projects.
Modi said the two countries implemented a number of projects within a short time which were the symbols of good relations between the two countries. "We're not only neighbours, we're also a family. We always extend our hands in our happiness and sorrow. We've proved that we could solve problems if we wish."
He said these projects initiated a new chapter in the bilateral relations between the two countries. "It'll play a significant role in Bangladesh's development as fuel oil could be supplied to the northern region at a low cost," he said.
About the railway projects, he said the schemes would not only help carry passengers but also transport goods.
Highly appreciating Hasina's leadership, the Indian PM said these projects could not be implemented without her dynamic leadership.
"These projects are very important for people-to-people contact between the two countries. I hope such cooperation between Bangladesh and India will continue," he said.
Modi also said the growth of relations in the last few years showed the world what can be achieved on the bilateral front if two countries make up their minds, reports our New Delhi correspondent.
He said India and Bangladesh have not only resolved territorial disputes but also achieved "unprecedented" progress in developmental cooperation in the last few years.
"For this, I give credit to your leadership," Modi told Hasina.
"It is a matter of joy that the pipeline, on completion, will be dedicated to the government and the people of Bangladesh," he said and expressed the confidence that the pipeline would energise India-Bangladesh relations and bring India closer to the economy of Bangladesh.
Currently, imported oil is stored in Chattogram depot after unloading it from the ship at Chattogram Port. Later, the oil is brought to Khulna Daulatpur depot through coastal tanks and carried to Parbatipur again through rail wagons.
This requires additional time and money as well as transport. The pipeline will solve these problems.
Through the cross-border pipeline, India will supply fuel oil from its Numaligarh Refinery Ltd (NRL), located at Golaghat in the northeastern state of Assam, while Bangladesh will receive the oil at Parbatipur depot of Bangladesh Petroleum Corporation (BPC) in Dinajpur. India will supply 2.5 lakh tonnes of diesel in the first three years.
BIRTHDAY GREETINGS
During their speeches, the two prime ministers greeted each other on their birthdays. The birthday of Modi was celebrated on Monday while that of Hasina will be celebrated on September 28.
Modi extended in advance birthday greetings to Hasina saying the people of India "wish you a long life, good health and success." The Indian PM also acknowledged with gratitude Hasina's greetings on his birthday.
Earlier, Hasina had sent a letter greeting Modi on his 68th birthday and commended Modi's "keen desire and commitment to promote all-round cooperation with Bangladesh" saying it will take the bilateral relations to "newer height".
The letter, along with a bouquet and "mishti doi" and other sweets on behalf of Hasina, was delivered to the official residence of Modi at 7 Lok Kalyan Marg (formerly called Race Course Road), said an official, reports our New Delhi correspondent.
The sweets were brought from Chittaranjan Park area, a Bangalee-dominated locality of south Delhi, the official added.