Paris floods ease but alerts in France's north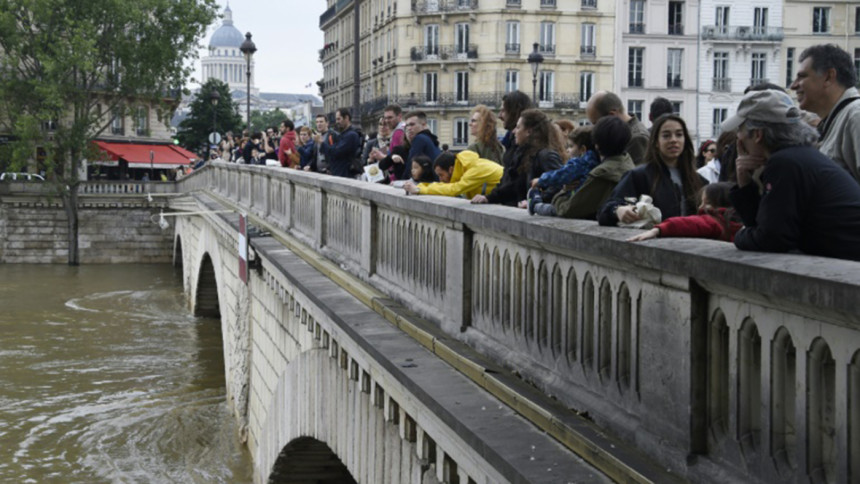 The rain-swollen River Seine in Paris receded after reaching its highest level in three decades as attention turned today to other areas of France where alert warnings have been issued.
From a peak of 6.10 metres (20 feet) in the early hours of yesterday, the river began to subside, falling to 5.77 metres at 8:00am (0600 GMT), the environment ministry's Vigicrues flood watch website said.
However, red alerts had been issued for the Seine-Maritime and Eure departments in the northern Normandy region but were lifted early today and they passed on to the next level of orange.
Alerts have also been issued in 15 other regions, including Ile-de-France, where Paris is located, Lorraine in the northeast as well as parts of the country's central areas. Meteo France has forecast showers on Sunday across much of the country.
The authorities in Seine-Maritime said there had "been no significant damage so far".
Traffic has been prohibited in some areas of Normandy and although the Seine had risen in the northern city of Rouen, it did not break its banks.
"It's like this when there are strong tides," said a port official.
Across Europe, at least 18 people have been killed in floods that trapped people in their homes, felled trees and power lines, cut off roads and rail lines and forced rescuers to navigate swamped streets in lifeboats.
In Paris, the Louvre and Orsay museums, which sit on opposite banks of the Seine, were closed for a third day today, after shutting their doors in a race to move art treasures out of basements to higher ground as a precautionary measure.
They are only due to reopen on Tuesday.
'IT'S MIND-BOGGLING'
Although city authorities warned people not to venture near dangerous parts of the river, crowds gathered on bridges to snap pictures of the dramatic sight.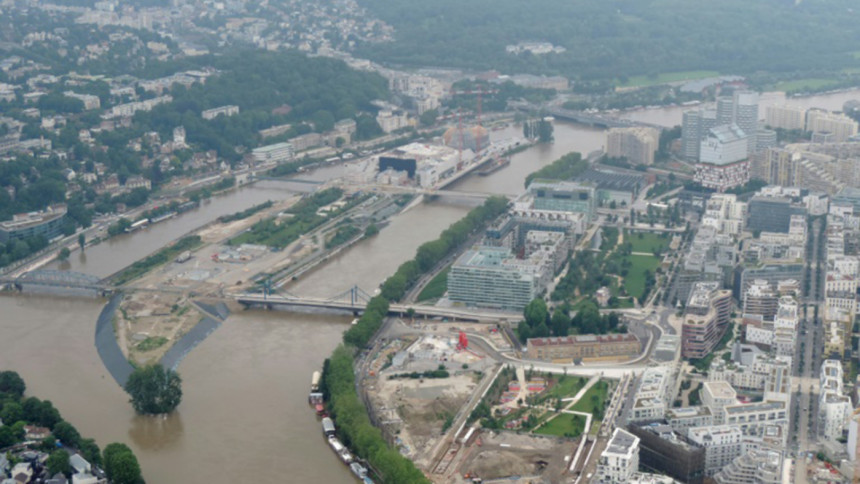 "It's mind-boggling," said Bente Wegner, a 25-year-old German, speaking near Notre Dame cathedral. "I've never seen it this high!"
"We had to scrap plans for a boat cruise but at least we have some super photos."
Two metro stations remained closed and services on a train line that hugs the Seine was still suspended in places. Boat traffic was also suspended.
More than 20,000 people have been evacuated over the past week from the Loire Valley and the greater Paris area.
The health ministry said nearly 500 patients from a dozen hospitals and 800 care home residents had also been moved.
Nationwide losses could reach more than 600 million euros ($680 million), according to Bernard Spitz of France's association of insurers.
The head of national railways operator SNCF, Guillaume Pepy, said the rail network had suffered "catastrophic" damage which would run to tens of millions of euros.
President Francois Hollande meanwhile told Europe 1 radio that the cabinet would formally declare a "natural catastrophe" on Wednesday to facilitate payout by the insurance industry.
"There is also an agricultural calamity," Hollande said.
"Many farmers have lost either their livestock or their vines," he added.
The downpours have added to the gloom caused by months of protests and strikes over a labour reform bill that have continued in the run-up to the June 10 kick-off of the Euro 2016 football championships.