Paris attacks expose failures, challenges for intelligence services
France's security services are once again facing a harsh spotlight after failing to prevent the brutal attacks in Paris carried out by the Islamic State group.
There is particular concern over the failure to intercept 28-year-old Frenchman Samy Amimour, one of the suicide bombers in the massacre at the Bataclan concert hall.
A case was opened against him in France in 2012 after an abortive attempt to go to Yemen, but he was still able to travel to Syria a year later, triggering an international warrant for his arrest.
That did not stop him sneaking back into France and taking part in Friday's bloody attacks in the capital.
"We have a problem with controlling (Europe's) Schengen borders -- a big one," said Alain Chouet, a former security chief at France's DGSE external intelligence service.
"(Amimour's) arrival should have triggered a red flag. But these guys understand very well the techniques for entering and exiting the Schengen zone. They've practised it a lot."
The intelligence services are also taking flak over one of the gunman who blew himself up at the Bataclan concert hall, Omar Ismail Mostefai.
He had been on the radar since 2010 and was subject to an "S-file" as a known extremist.
Turkey says it alerted France that he was a potential threat on two occasions -- in December and January -- after he travelled to the country in 2013, likely on his way to Syria.
But Turkey "never got a response from France", a senior official in Ankara told AFP.
Belgium represents another major problem for European security, with several of the attackers known to local police but little done to track their movements.
"You understand that if the Belgians don't warn us, we can't do anything," a senior French police source said Monday.
- Overwhelming numbers -
Despite the criticism, experts say the scale of the challenge makes it impossible to keep track of everything.
"Fingers will be pointed at the French intelligence services but given the sheer number of individuals they have to monitor, they are finding it overwhelming, and it was always likely that some would slip through the net," said Kit Nicholl, France security analyst for IHS Country Risk in London.
France has contributed the highest number of citizens to the jihad in Syria and Iraq.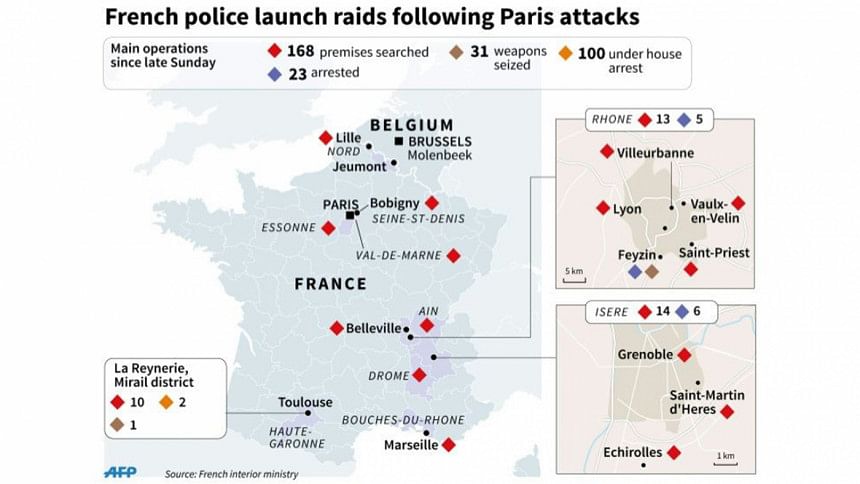 More than 500 French fighters are thought to be with Islamic State in Syria and Iraq, according to official figures, while 250 have returned and some 750 expressed a desire to go there. More than 10,000 people have "S-file" status as potential extremists.
France passed a new legal framework over the summer, giving the authorities sweeping powers to bug phones and online conversations with little judicial oversight.
But as with the case of the Kouachi brothers who carried out the attacks on Charlie Hebdo magazine in January, "it's clear the problem isn't identifying potential terrorists, it's having the resources for analysis and assessment," said Nicholl.
"Those with training abroad will probably have the awareness of how to circumvent surveillance, either by avoiding communications altogether or using advanced encryption technologies that are advancing at such a pace that it's hard for intelligence agencies to stay ahead," he added.
A former counter-terrorism specialist for the DGSE, speaking on condition of anonymity, said there were three theories.
"Either no one saw anything, and that's a big worry, or we saw things and we didn't understand them, which is also a problem, or we saw things and despite everything they were able to carry out the attack," he said.
"It means we either have a problem of intelligence, or analysis of the intelligence, or of the chain of command among the security services. The challenge was made harder by the fact it was prepared in Belgium."
"It has to be said: even though the Belgians have the highest proportion of people leaving for Syria, they are not up to the task. In this group, many of the guys were known in Brussels.
"Someone has screwed up," he said.
But counter-terrorism officials are forced to make difficult choices about which people to prioritise with limited resources.
"It stops me sleeping at night," said a French counter-terrorism official in a recent interview prior to the attacks. "How do you put the right names in the right place on the list -- we are very far from an exact science."
Others said the blame should not ultimately land on the security services.
"Clearly if there was an attack, there's a problem," said Chouet.
"But you don't blame the forest fire on the firefighters."