Orlando families to bury victims, ask Obama for change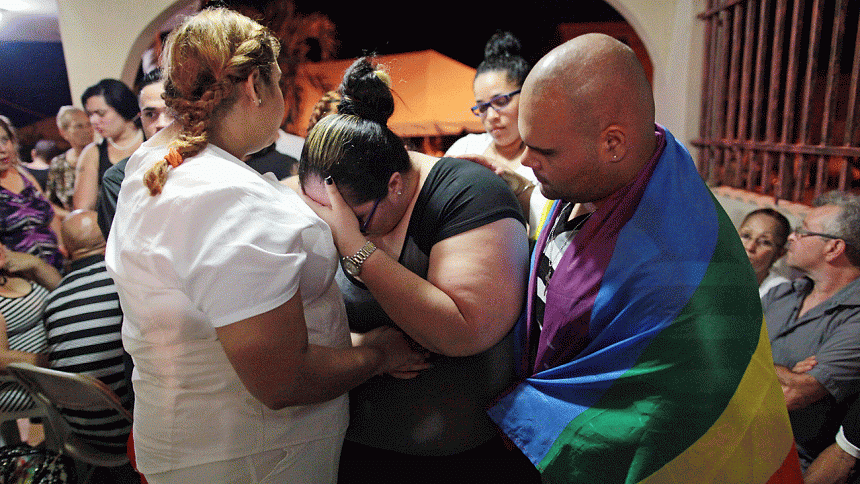 Families of some of the 49 people killed in a massacre at an Orlando gay nightclub will mourn and bury their dead on Friday, a day after President Barack Obama met survivors and said the United States must act to control gun violence.
Funerals are expected to be held over the next two weeks.
Anthony Luis Laureano Disla, 25, like many of the victims of the Pulse club mass shooting, was from Puerto Rico. He is to be buried on Friday, according to the Newcomer Funeral Home, a day after more than 150 friends and family mourned him at a wake.
Obama, who traveled to Orlando on Thursday and met survivors and families of those who died, told reporters: "I held and hugged grieving family members and parents, and they asked, 'Why does this keep happening?'."
He urged Congress to pass measures to make it harder to legally acquire high-powered weapons like the semi-automatic rifle used in the attack on Sunday.
Obama and Vice President Joe Biden were in Orlando after a US-born gunman claiming allegiance to various Islamist militant groups carried out the deadliest mass shooting in modern US history.
During the shooting rampage the gunman, Omar Mateen, exchanged text messages with his wife, CNN reported on Thursday, as well as posting on Facebook and placing a phone call to a television station. Police killed Mateen, 29, a US citizen born in New York to Afghan immigrants.
Obama, who has visited mass shooting victims' families in towns from San Bernardino, California, to Newtown, Connecticut, since becoming president, laid flowers at a memorial for the victims of the attack on the Pulse nightclub.
Islamic State claimed responsibility for the attack but US officials have said they do not believe Mateen was assisted from abroad. A married couple also claiming allegiance to Islamic State shot dead 14 people in San Bernardino, California, in December.
BEFORE THE MADNESS
On Thursday, more than 300 people, including Florida Governor Rick Scott, attended the viewing for Eric Ivan Ortiz-Rivera, who was born in Dorado, Puerto Rico. He was 36 when he was killed during a night of dancing to celebrate a friend's new house. His husband had stayed home that night in the couple's apartment.
"He was in a Snapchat video that's out there, dancing away, so we know he had some fun before the madness," said his cousin, Orlando Gonzalez.
Twenty-three of the 53 wounded remained hospitalized, six in critical condition, according to the Orlando Regional Medical Center.
CNN reported, citing a law enforcement official it did not identify, that Mateen exchanged text messages with his wife, Noor Salman, during the three hours he was holed up in a bathroom inside the nightclub. Salman is under investigation to find out whether she knew about Mateen's plans ahead of time.
CONGRESS UNDER PRESSURE
The massacre put pressure on Congress to act.
Mateen carried out the slaughter with an assault weapon and handgun that had been legally purchased although he had twice been investigated by the FBI for possible connections with militant Islamist groups.
Senator John Cornyn of Texas, the No. 2 Republican in the Senate, said the chamber would most likely vote on four gun control measures on Monday.
However, no formal deal between the parties for votes was announced, and it was unclear when and how the Senate would proceed with the votes, which would be amendments to an appropriations bill funding the Commerce and Justice departments.
Republicans, who hold a 54-person majority in the 100-seat Senate, have blocked a number of Democratic-backed gun control measures over the years, saying they infringed on Americans' constitutional right to bear arms.