Leftist 'AMLO' favorite as Mexico heads to polls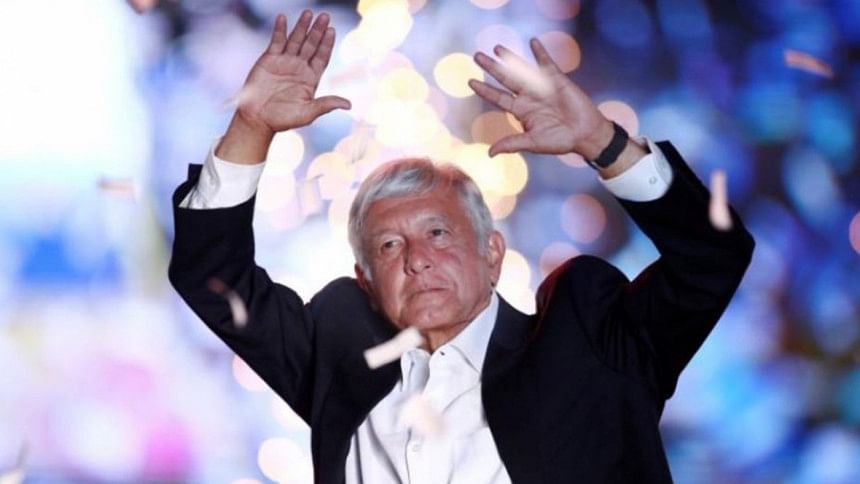 Fed up with corruption and violence, Mexicans will elect their next president today, deciding whether to believe in the change promised by the anti-establishment leftist Andres Manuel Lopez Obrador, the heavy favorite.
Leading by more than 20 points in the polls, the sharp-tongued, silver-haired politician has successfully tapped voters' anger with a seemingly never-ending series of corruption scandals and horrific violence that left a record 25,000 murders last year -- an orgy of bloodshed fueled by the country's powerful drug cartels.
Many voters are sick of the two parties that have governed Mexico for nearly a century: the ruling Institutional Revolutionary Party (PRI) and the conservative National Action Party (PAN).
Lopez Obrador, 64, calls them both part of the same "mafia of power," a message that resonated with many people -- even if the former Mexico City mayor has been vague on what the change he promises will look like.
The poll aggregator Oraculus gives Lopez Obrador 48.1 percent of the vote heading into election day, to 26.1 percent for former speaker of Congress Ricardo Anaya of the PAN, 20.8 percent for PRI candidate Jose Antonio Meade and five percent for independent candidate Jaime Rodriguez.
Lopez Obrador's coalition -- led by his party, Morena -- is within striking distance of a congressional majority and six of the nine governorships up for grabs.
That would be a major realignment in Mexican politics and a coup for a party launched only six years ago, originally as a grassroots movement to support the three-time presidential candidate's 2012 campaign.
Duncan Wood, director of the Mexico Institute at the Woodrow Wilson International Center for Scholars in Washington, called the elections "historic."
"You've got an openly left-wing economic nationalist who is from a new party, a party that didn't even exist at the last (national) election, who is managing to sweep into power, not just in the presidency, but in the Congress as well," he said.
"We're looking at a shift in Mexican politics."
Market jitters
Lopez Obrador has clashed with Mexico's business community, with some critics warning he would pursue Venezuela-style socialist policies that could wreck Latin America's second-largest economy.
Seeking to soothe, he has recruited a team of market-friendly advisers and backpedaled on his most controversial proposals, including reversing outgoing President Enrique Pena Nieto's landmark energy reform, which privatized the oil sector.
Mexico's next president faces a laundry list of challenges, including a lackluster economy and a thorny relationship with the United States under President Donald Trump, whose anti-trade, anti-immigration policies have turned diplomacy with Mexico's key trading partner into a minefield.
Besides electing their president for the next six years, Mexico's 88 million voters will choose their 500 lower-house deputies and 128 senators, as well as a host of state and local officials.
Preliminary official results are expected around 11:00 pm (0400 GMT Monday).
In all, more than 18,000 posts are at stake -- the largest elections in Mexican history.
They have also been the most violent, with 136 politicians murdered since candidate registration began in September, according to the consulting firm Etellekt.