Kelly Sadler: Aide who mocked McCain exits White House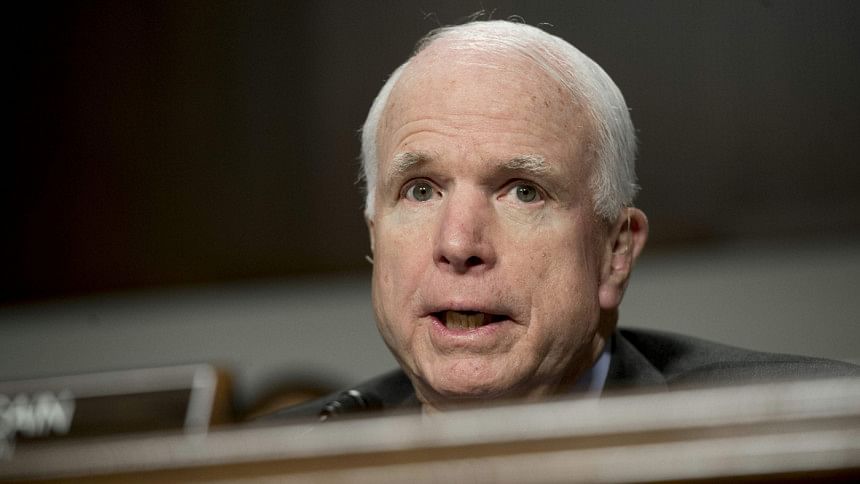 Donald Trump has sacked an aide who said cancer-stricken Senator John McCain's opposition to a presidential nominee did not matter because "he's dying anyway," the White House announced Tuesday.
The White House was roiled by bipartisan fury over the remark attributed to Kelly Sadler in May.
"Kelly Sadler is no longer employed within the Executive Office of the President," read a brief statement by deputy White House spokesman Raj Shah.
McCain, 81, had indicated he opposed the nomination of now CIA Director nominee Gina Haspel over her role in enhanced interrogation techniques under president George W. Bush.
The Arizona senator, who was held prisoner and tortured during the Vietnam War, is battling brain cancer.
CNN had quoted a White House official as saying Sadler, speaking at a staff meeting, meant the comment as a joke but that it flopped.
Another extraordinary attack against McCain that stunned Washington came around the same time from a fellow veteran, retired US Air Force lieutenant general Thomas McInerney, who said torture works because it made McCain spill sensitive information to his captors during his years as a prisoner of war in Vietnam.
The attacks, remarkable for their bluntness, triggered swift reaction from across the political spectrum, with lawmakers demanding an apology from Trump that never came.
Meghan McCain, a conservative commentator on ABC's popular morning talk show "The View," delivered an eloquent defense of her father, who is battling brain cancer at home in Arizona.
"I don't understand what kind of environment you're working in when that would be acceptable and then you can come to work the next day and still have a job," she said at the time.
Her father is "all about character and bipartisanship and something greater than yourself," Meghan McCain said, before adding a stinging message to the critics: "Nobody's going to remember you."
Members of Congress also rallied behind their ailing, war-hero colleague.
Trump, for his part, once mocked McCain's war service, saying during the presidential campaign that "I like people that weren't captured."