World leaders urged to join 2019 climate summit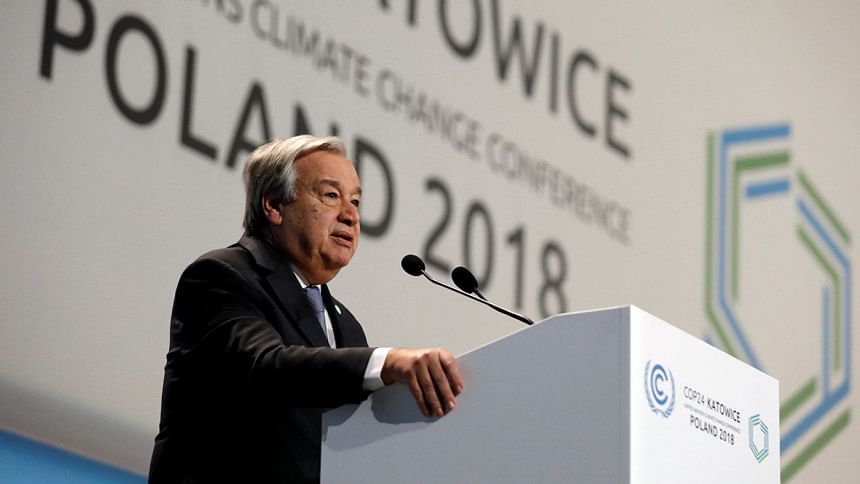 The UN secretary-general on Tuesday urged world leaders to join a climate change summit he will host in 2019 to explain how they plan to ratchet up their efforts to reverse worsening global warming that is leading to a "very dramatic situation".
Antonio Guterres said the gathering at the United Nations in New York in September would be an "essential piece" in raising ambition to cut heat-trapping emissions, and helping countries cope better with wilder weather and rising seas.
The summit also will seek to raise more funding to ensure wealthy governments keep a 2020 promise to deliver $100 billion annually to help poor countries develop cleanly and adapt to a hotter planet, the UN chief added.
"We all know the massive scale of the climate challenge we face," he told reporters at climate talks in Poland. "And we all know we are not on track."
In 2020, countries are due to submit to the United Nations updated national climate action plans that are the lynchpin of the Paris Agreement adopted in 2015.
Under that accord, nearly 200 governments have committed to limit the rise in global temperatures to between 1.5 and 2 degrees Celsius above pre-industrial times.
There has already been an increase of about 1 degree C, and current pledges to reduce emissions are still likely to lead to warming of about 3 degrees C this century, scientists have said.
In the coming year, UN agencies will work with governments to strengthen their climate action plans covering the decade to 2030, as well as their long-term strategies, Guterres said.
Climate experts said on Tuesday they expected countries to issue a political declaration at the end of the December 2-14 climate talks in Katowice that would firmly signal their intention to do more to cut emissions from 2020.
They should then "sharpen their pencils" and consult with government authorities, businesses and civil society back home to work out how to achieve that, said Alden Meyer, director of strategy and policy for the Union of Concerned Scientists.
The world has seen "a technology revolution since Paris", he said, with renewable energy generation and storage now far cheaper - something countries must make the most of in revising their 2020 plans to cut emissions.
In Katowice, government officials are hammering out rules on how to measure and track emissions reductions under the Paris deal, seeking a formula to achieve widespread and ambitious cuts that is fair to countries with fewer resources.
There are also complex discussions on how rich states should track the funding they have provided and indicate the amount they will contribute in future years - a touchy subject with some governments reluctant to make promises.
Guterres said a central objective of his 2019 summit would be to provide a "transparent approach" to delivering $100 billion to vulnerable countries each year from 2020-2025, when a new target is due to kick in.
He urged donors to replenish the coffers of the flagship Green Climate Fund by the time of the summit, a process the fund's board has said it aims to complete by October 2019.
The summit, designed to spur political commitment to action, will also involve different groups tackling climate change, from cities and companies to young people, the UN said in a briefing note.
The summit aims to win promises for on-the-ground change in polluting industries from oil to cement, and target how supply chains and technology can cut emissions and waste, particularly from farming and food systems.
It also wants cities to make new commitments on low-emission buildings, mass transport and green urban infrastructure, as well as protection for poor communities such as slum dwellers.
"The summit is not an end in itself," Guterres said. "It is... a tool to leverage unprecedented ambition, transformation and mobilisation."