Won't budge an inch on CAA: Amit Shah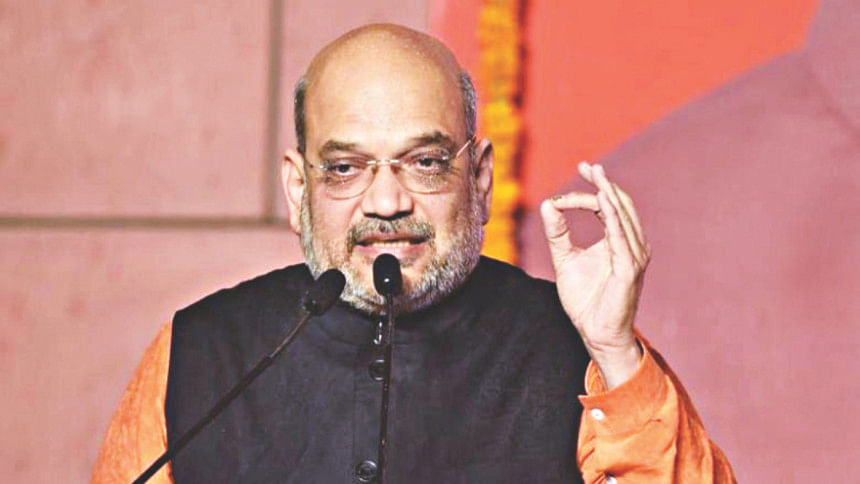 Union Home Minister of India Amit Shah today said the government will not budge an inch on its decision to implement the Citizenship Amendment Act (CAA) despite the opposition parties' criticism of the law.
Launching an awareness programme in support of the amended citizenship law, Shah accused the Congress and other opposition parties of running a "misinformation" campaign, reports our New Delhi correspondent.
He said the amended law does not take away Indian citizenship from anyone but grants citizenship.
Opposition parties have criticized the amendment which allows non-Muslims from Bangladesh, Pakistan and Afghanistan an easier path to citizenship if they have come to India from the three neighbouring countries before 2015 after facing religious persecution.
Shah accused the Congress of playing vote-bank politics by spreading "misinformation".
Meanwhile, Rajasthan Chief Minister and senior Congress leader Ashok Gehlot targeted the BJP, saying it should shun arrogance and go for a rethink on amended CAA.
"When the whole country is opposing it, then the BJP-led Centre should leave behind its arrogance and rethink," Gehlot said, alleging that the BJP was still "adamant" on implementing the Act despite opposition from nine states.
The Rajasthan chief minister said the situation was so serious that people from all over the country were on the streets.
"They have come on the streets; the new generation has come on the streets. The youth of the country are worried about their future. Why such a situation developed," he asked.