'Sri Lanka bombers 'trained' in Kashmir, Kerala before blasts'
Sri Lanka army chief says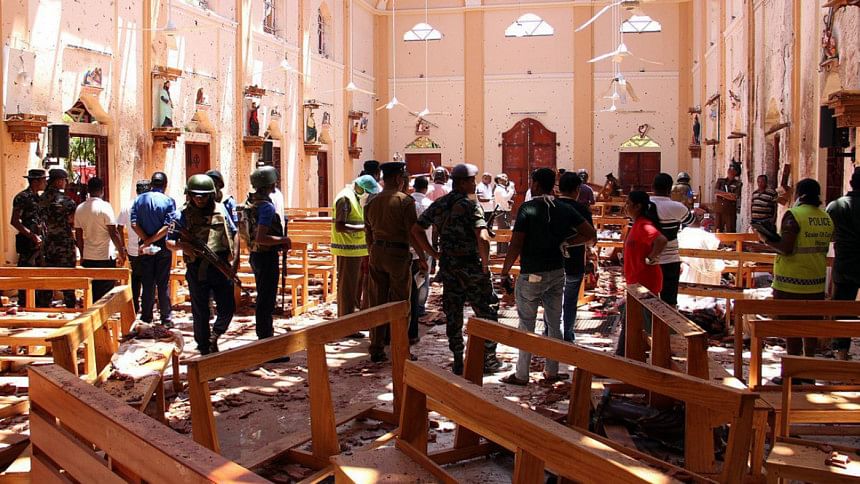 Days after the deadly serial blasts that killed over 253 people on Easter Sunday, the Sri Lanka army chief said the suicide bombers had travelled to India to possibly train in terrorist activities.
In an interview to BBC World, Lieutenant General Mahesh Senanayake said, "They had gone to India, Kashmir, Bangalore, Kerala state. Those are the information available with us".
However, he said the exact motive of the bombers travelling to India was not known.
On being asked why Sri Lanka had not acted on the intelligence inputs shared by India on the possible attacks, he said: "there was a gap in the government that everybody could see today".
India is learnt to have sent as many as three alerts before the deadly bombings in Sri Lanka.
India had alerted Sri Lanka as early as April 4 to the possibility of imminent suicide attacks which became a reality on April 21.
According to reports, the first alert was on April 4, which told Sri Lanka that, apart from churches, the Indian High Commission in Colombo could be a target.
The second alert, according to the Associated Press, was sent on Saturday, the day before Easter, which provided specific information about possible targets.
The third alert was reportedly sent hours before the first suicide blast.
Sri Lankan Prime Minister Ranil Wickremesinghe has also acknowledged that alerts had been sent by India.
The blasts targeted St Anthony's Church in Colombo, St Sebastian's Church in the western coastal town of Negombo and Zion Church in the eastern town of Batticaloa around 8:45am (local time) as the Easter Sunday mass were in progress.
Explosions were also reported from three five-star hotels — the Shangri-La, the Cinnamon Grand and the Kingsbury in Colombo.
The relatively unknown National Thowheeth Jamaath — an affiliate of the ISIS — had reportedly carried out the Sri Lanka blasts.
Following the blasts, the National Investigation Agency (NIA) had conducted raids at three places at Kasaragod and Palakkad in Kerala in a probe connected to an Islamic State module case.
Senior officers of the NIA had visited several places in Kerala as part of their sweeping probe against Zahran Hashim, the head of NTJ.
Hashim was confirmed to have been killed in the attack on a Colombo hotel on Easter Sunday.
Meanwhile, investigations by the Sri Lankan security authorities revealed that military training for the assailants was provided overseas and at some local locations in the Eastern Province, Nuwara Eliya and Wanathawilluwa.
The Easter Sunday marked the bloodiest day in Sri Lanka since the end of the civil war a decade ago.
Copyright: The Statesman/ Asia News Network