6 dead, dozens hurt in Italy nightclub stampede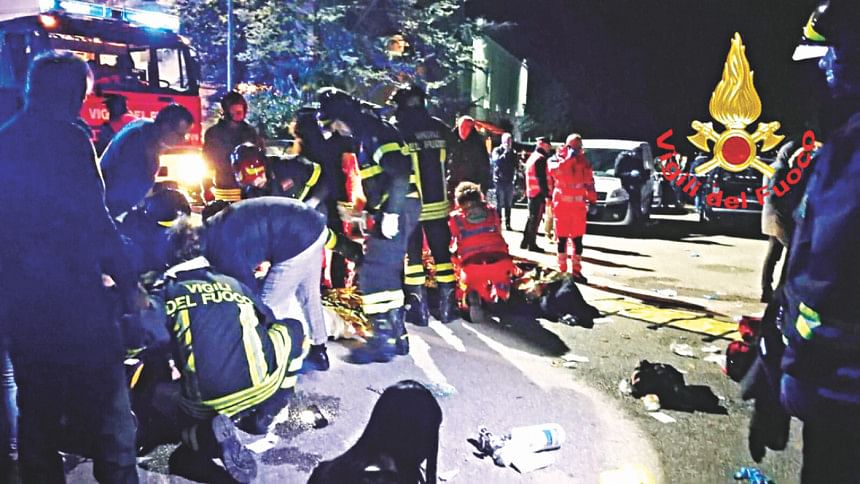 At least six people died and dozens were injured in a stampede when panic broke out during a rap concert at an Italian nightclub early yesterday.
Media reports said the suspected use of a pepper spray-like substance sparked the chaos at the venue in the town of Corinaldo, near Ancona in central Italy.
"The cause may have been the dispersal of a stinging substance, the young people fled and trampled over each other. Sadly, six people died and dozens are injured," the fire service said in a statement on Twitter.
The victims include five people under the age of 18 -- three girls and two boys - and an adult woman who accompanied her daughter to the concert.
Local fire chief Dino Poggiali said that 14 of the injured were in a critical condition, and 40 less serious.
As the crowd panicked, people ran for the three emergency exits, one of which led to a small bridge and the car park, according to a preliminary investigation.
The force of the fleeing crowd made a railing collapse and dozens of people fell, crushing those below to death.
A pile of abandoned shoes testified to the chaos of the stampede, with survivors and the bereaved weeping outside the nightclub as emergency vehicles tended to the injured, local newspaper Ancona Today reported.
Around 1,000 people -- many of them young -- were in the Lanterna Azzurra (Blue Lantern) club for a performance by Italian rapper Sfera Ebbasta, known as "the king of the trap" for his style of Hip Hop.
The accident happened at around 1am (0000 GMT).