Killing of Afro-American man in US: Unrest flares in US cities
Cop charged with murder; curfew imposed in Minneapolis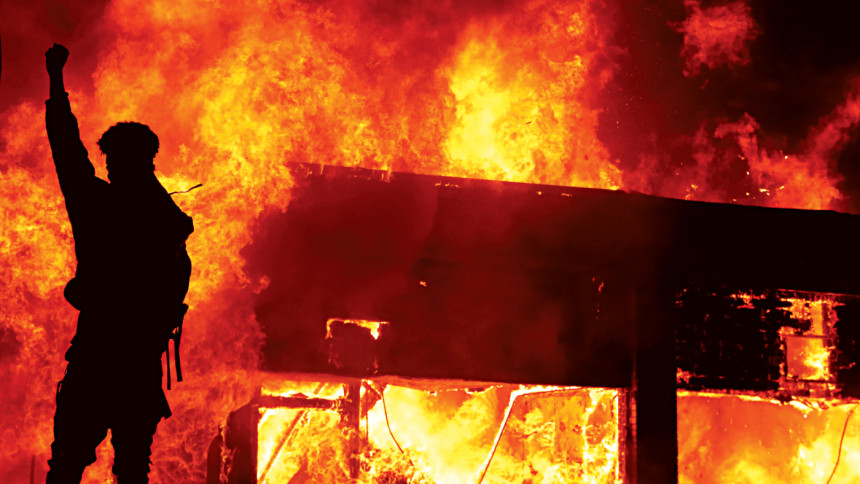 The Minneapolis police officer accused of killing a handcuffed African-American man was charged with murder Friday, but the move failed to quell surging anger as tense protests erupted in cities across the nation.
Demonstrations raged from New York to Los Angeles, and from Atlanta where police cruisers were set ablaze, to Washington where protesters faced off with Secret Service agents outside the White House.
In Minneapolis, Derek Chauvin, the white officer filmed kneeling on the neck of a handcuffed and unarmed George Floyd for nearly nine minutes, was charged with one count of third-degree murder -- unintentionally causing a death -- and one count of negligent manslaughter.
But the charges failed to calm a shaken nation whose deep wounds over racial inequality have been torn open anew.
Authorities imposed a curfew Friday in Minneapolis after three nights of violent protests left parts of the city in flames. But protesters defiantly remained on the streets, sometimes dodging tear gas canisters fired into crowds by police.
Protester Naeema Jakes said she needed to be on the streets so she could verbally confront officers.
"I need you to look in my eyes and feel me," Jakes said. "This is pain, this is hurt."
The 46-year-old Floyd's relatives -- who spoke Friday with President Donald Trump -- welcomed news of the arrest as a "step on the road to justice," but said they hoped for tougher charges and action against the other 3 officers involved in Floyd's detention and death.
All four were fired from the police department Tuesday after video surfaced of Monday's arrest.
The announcement of charges came hours after hundreds of troops were deployed to the streets of Minneapolis and St. Paul to try to prevent a fourth night of violent protests.
Scores of buildings have been burned and looted across the so-called Twin Cities, including a police station associated with the four officers.
Mayor Jacob Frey declared a night-long curfew Friday and Saturday as protesters appeared on the streets in Minneapolis again Friday.
Some chanted "I can't breathe" -- Floyd's words as Chauvin's knee pressed on his neck.
Former president Barack Obama said in a statement that he shared the "anguish" of millions of Americans over Floyd's death. Former vice president Joe Biden, who is challenging Trump for the White House in November's election, also spoke to Floyd's family.