KSA seeks death for Khashoggi killing
Crown prince exonerated in murder; US hits 17 Saudis with sanctions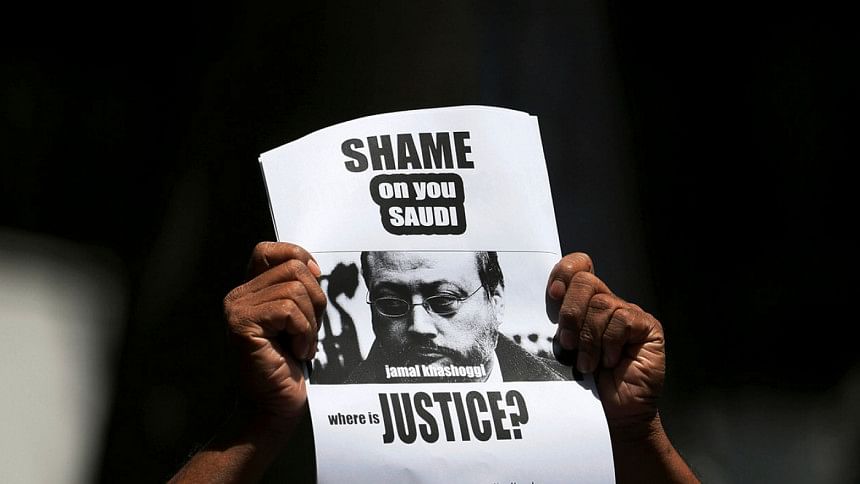 Saudi Arabia's public prosecutor is seeking the death penalty for five out of 11 suspects charged in the murder of journalist Jamal Khashoggi, his office said yesterday, as the kingdom tries to contain its biggest political crisis in a generation.
Khashoggi, a royal insider turned critic of Saudi policy, was killed in the country's Istanbul consulate on Oct 2 after a struggle, by lethal injection, deputy public prosecutor and spokesman Shalaan al-Shalaan told reporters.
Shalaan said that de facto ruler Crown Prince Mohammed bin Salman knew nothing of the operation, in which Khashoggi's body was dismembered, removed from the building and handed over to an unidentified "local cooperator".
The whereabouts of Khashoggi's remains are unknown, he said.
Shalaan's account of the killing, the latest of Riyadh's shifting explanations, was met with scepticism in Turkey while a US senator said it was unbelievable that the killing could not have been carried out without orders.
Meanwhile, the US yesterday placed punishing economic sanctions on 17 Saudis allegedly involved in the murder, including top aides of Crown Prince Mohammed bin Salman.
"The Saudi officials we are sanctioning were involved in the abhorrent killing of Jamal Khashoggi. These individuals who targeted and brutally killed a journalist who resided and worked in the United States must face consequences for their actions," said Treasury Secretary Steven Mnuchin.
Shalaan said the Washington Post columnist was murdered after "negotiations" for his return to the kingdom failed, and that the killing was ordered by the head of a negotiating team sent to repatriate Khashoggi after he decided it was unfeasible to remove the journalist from the consulate.
The order to repatriate Khashoggi had come from former deputy intelligence chief General Ahmed al-Asiri, Shalaan added. Asiri was sacked last month following an initial investigation.
Asked if Prince Mohammed played a role in the murder, he said: "He did not have any knowledge." That stance was reiterated by Saudi Foreign Minister Adel al-Jubeir, who said the prince had absolutely nothing to do with the case and accused Turkey of ignoring Saudi requests for information.
Turkish President Tayyip Erdogan has said the order for the operation came from the highest level of Saudi leadership but probably not King Salman, putting the spotlight instead on his 33-year-old heir. US President Donald Trump has suggested ultimate responsibility lies with the prince as de facto ruler.