Muslim pilgrims start hajj pilgrimage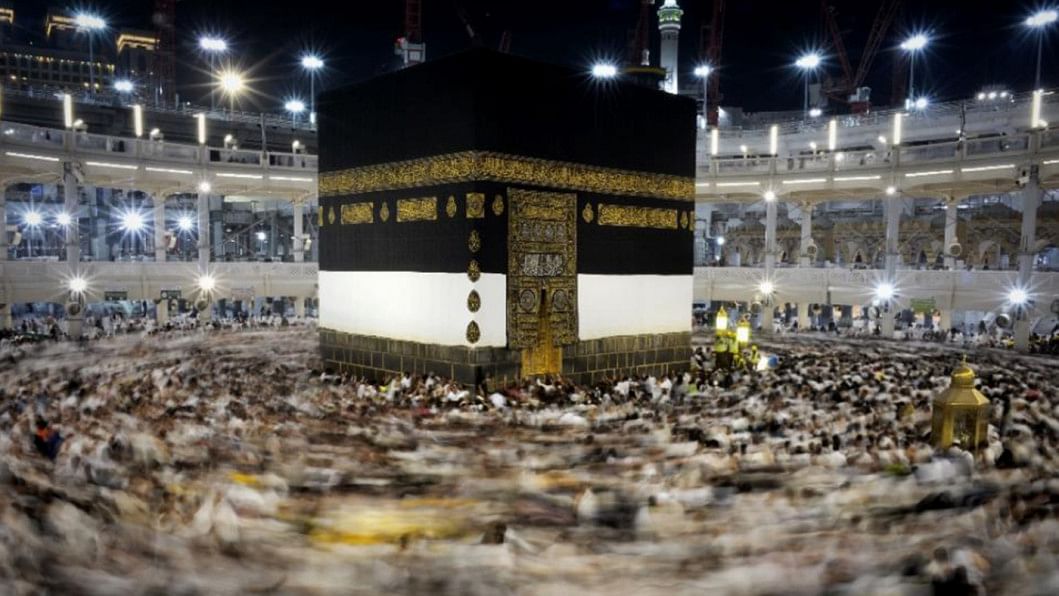 Hundreds of thousands of Muslims from across the globe began the annual hajj pilgrimage on Tuesday in one of the largest annual gatherings of people in the world.
In what for many will be the highlight of their spiritual lives, pilgrims began moving from Saudi Arabia's holy city of Mecca to nearby Mina for the start of the six-day event.
Almost two million people are expected to take part in this year's pilgrimage, undeterred by a crane collapse at Mecca's Grand Mosque earlier this month that killed 109 people and injured nearly 400 at Islam's holiest site.
Joyous pilgrims like 35-year-old Egyptian Walaa Ali had been gathering for days ahead of the event.
"It is a gift from God that He has chosen us to come here," Ali said with tears in her eyes, as preachers nearby explained the history and rituals of the hajj to men and women sitting side by side in Mecca.
"I am so happy to be here," she said.
This year's hajj takes place against a backdrop of increased jihadist violence in some Muslim countries, a surge of the potentially deadly MERS virus and the war in Saudi Arabia's neighbour Yemen.
The hajj is among the five pillars of Islam and every capable Muslim must perform the pilgrimage at least once in his or her life.
Previously marred by stampedes and fires that killed hundreds, the pilgrimage had been largely incident-free for the past decade after safety improvements.
But preparations for this year's event were marred when a construction crane working on an expansion of the Grand Mosque collapsed during severe winds.
Saudis, Iranians, Nigerians, Malaysians, Indonesians and Indians were among the dead.
About 100,000 police have been deployed to secure pilgrimage sites and manage the crowds, and authorities say they are on alert for possible attacks by extremists.
The jihadist Islamic State group has carried out bombings targeting security forces and Shiite mosques in the kingdom in recent months.
Security forces have taken "measures to prevent terrorist groups from exploiting hajj season to carry out acts of sabotage," interior ministry spokesman General Mansur al-Turki said.
"We take all possibilities into consideration during hajj. This includes the kingdom being targeted by terrorist organisations," he told AFP.
This year's hajj also comes with Saudi Arabia at war, leading an Arab coalition conducting air strikes and supporting local forces in Yemen against Iran-backed rebels since March.
Most Yemeni pilgrims performing the hajj this year already reside in the kingdom.
Among other challenges facing Saudi authorities is potential transmission of the deadly Middle East Respiratory Syndrome coronavirus (MERS-CoV).
The capital Riyadh saw a jump in infections last month, but health officials say there has never been a case of MERS infection among pilgrims.
Saudi Arabia is the country worst affected by MERS, with 532 deaths since the virus appeared in 2012.
The health ministry has mobilised thousands of health workers to help secure a virus-free pilgrimage and to care for routine ailments.
The first day of the hajj is known as Tarwiah Day, when pilgrims traditionally watered their animals and stocked water for their trip to Mount Arafat, about 10 kilometres (six miles) southeast of Mina.
Pilgrims stay in specially-built fireproof tents in Mina, a city which only comes alive during hajj season.
At Mount Arafat they will pray and recite from the Koran during the climax of the hajj season on Wednesday.
Mount Arafat, a rocky hill on a vast plain, is where the Prophet Mohammed is believed to have given his final sermon after leading his followers on the hajj.
With the start of the hajj, pilgrims enter ihram, a state of purity in which they must not quarrel, wear perfume, cut their nails, or trim their hair or beards.
During ihram, men wear a seamless two-piece shroud-like white garment, symbolising resurrection and emphasising unity regardless of social status or nationality.
Women must wear loose dresses, generally also white, exposing only their faces and hands.
Early on Tuesday some ihram-clad pilgrims could be seen wheeling suitcases out of their hotel in the Red Sea city of Jeddah to begin the journey to Mount Arafat about 140 kilometres (90 miles) away.