Iran targets Israeli positions across Syrian frontier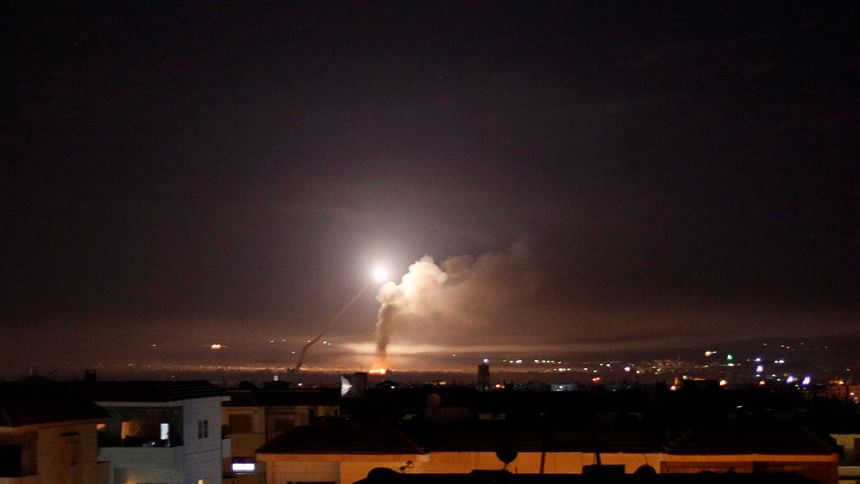 Iranian forces in Syria shelled Israeli army outposts across the Syrian frontier overnight, Israel said, prompting one of the heaviest Israeli strikes in Syria since its civil war began in 2011.
The attack into the Israeli-occupied Golan Heights marks the first time Iranian forces have hit Israel from Syria, where they have deployed along with Iran-backed Shi'ite militias to support President Bashar al-Assad in the civil war.
Syrian state media said dozens of Israeli missile strikes hit a radar station, Syrian air defense positions and an ammunition dump, underscoring the risks of a wider escalation involving Iran and its regional allies.
The Israeli military spokesman said the Iranian attack with around 20 projectiles or rockets was carried out by the Quds Force, an external arm of Iran's Revolutionary Guards.
Lieutenant Colonel Jonathan Conricus said that Israel intercepted "a few" of the rockets and there were no reports of casualties and that damage to Israeli positions was "limited."
The attack took place at around 12.10 am "We have retaliated but I have no further details about this," he said.
Tensions between Israel and Iran had already spilled over in Syria. Iran vowed retaliation after an Israeli air strike last month killed seven of its military personnel in a desert airbase in Syria. Israel regards Iran as its biggest threat, and has repeatedly targeted Iranian forces and allied militia in Syria.
Syrian state media reported Israeli missile attacks targeting Baath City in Quneitra, near the border. Further waves of missiles followed. Syrian state media said Israeli missiles had been brought down over Damascus, Homs and Sueida.
"Air defenses confronted tens of Israeli rockets and some of them reached their target and destroyed one of the radar sites," Syrian state news agency SANA reported, citing a military source. Another rocket hit an ammunition warehouse, it said.
Asked whether Israel had attacked near Damascus or scrambled communications there, an Israeli military spokeswoman said: "I have no comment on that at this time."
Syrian state television was broadcasting footage of its air defenses firing, and playing patriotic songs. Damascus residents described explosions in the sky from air defense systems.
Israeli media said residents of Metulla, on the Lebanese border, had been instructed to go to bomb shelters. There was no official confirmation.
Lebanon's National News Agency, citing Lebanese Army Command, reported Israeli jets circling over Lebanese territory early on Thursday before exiting.
MOUNTING TENSIONS
The late-night incident followed a surge in tensions between Israel and Syria, where Iranian and Lebanese Hezbollah forces have helped Damascus beat back a 7-year-old rebellion.
Israel describes Iran as its biggest threat and Hezbollah as the biggest threat on its borders.
Fearing that Iran and Hezbollah are setting up a Lebanese-Syrian front against it, Israel has occasionally struck at their forces. Iran blamed it for an April 9 air strike that killed seven of its military personnel in Syria, and vowed revenge.
Expectations of a regional flare-up were stoked by US President Donald Trump's announcement on Tuesday that he was withdrawing from the Iranian nuclear deal. Hours later, Israeli rocket rockets targeted a military base in Kisweh, a commander in the pro-Syrian government regional alliance said.
That attack killed 15 people, including eight Iranians, the Syrian Observatory for Human Rights said, though the commander said there were no casualties. Israel has neither confirmed nor denied responsibility.