Little Bangladesh exhibition opens in NY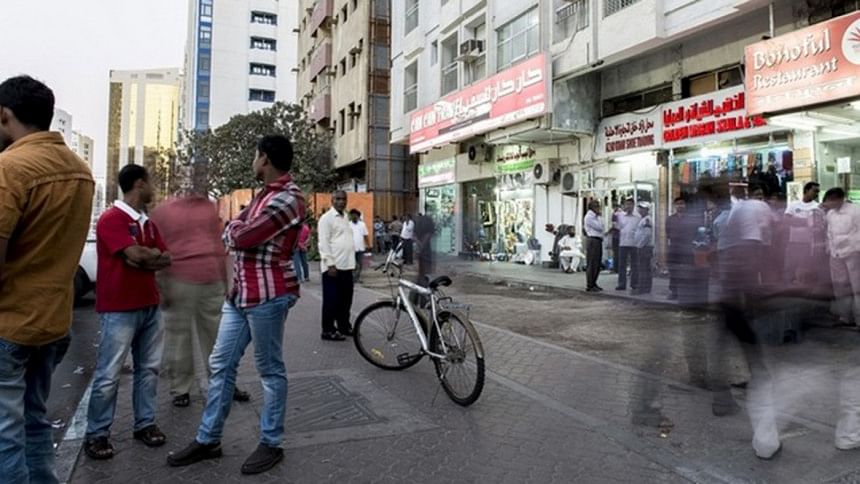 On Monday, September 21, an exhibition about the day in the life of an otherwise uncelebrated spot in Abu Dhabi - a small square boasting a supermarket and a single tree opened in New York city.
The exhibition, part of a research project explores how people related to spaces in the United Arab Emirates.
It is the work of Yasser Elsheshtawy, an associate professor of architecture at the United Arab Emirates University in Al Ain, reports The National UAE.
The subject of the exhibition was an area that Prof Elsheshtawy called Little Bangladesh, because of the many Bangladeshis who frequent there.
Little Bangladesh – Mapping Abu Dhabi featured videos, photographs, architectural plans and an opening-night lecture to reflect on work on what the professor terms "informal public spaces".
It is the low-wage migrant communities of South Asia that shape the "informal" landscapes Prof Elsheshtawy studied as they have neither the money nor the inclination to access to social spaces used by other communities, such as malls, hotels and resorts.
Prof Elsheshtawy believed his study could hold important lessons for the direction of development in Abu Dhabi.
Little Bangladesh is a block tucked behind the Marks & Spencer store and the main buildings that overlook Sheikh Rashid Bin Saeed Al Maktoum Street, also known as Airport Road.
Ease of access to informal public spaces was, for Prof Elsheshtawy, an important characteristic of truly diverse and human-centred cities.
Prof Elsheshtawy said: "I started studying the area in 2010 for work I was doing on informal urbanism in Abu Dhabi, similar to work on Dubai which has been a focus of study for many years. I wanted to know if Abu Dhabi had space for gatherings of low-income migrants.
"I explored the area and found this block with a square and a tree in it. There were a lot of people gathered there, just sitting or standing and talking, eating, shopping."
When Prof Elsheshtawy started work on a joint research project with New York University Abu Dhabi, he returned to see if the square would be a suitable subject for study. "I found that it was as vibrant as ever," he said.
He then conducted an in-depth study using motion-capture photography, aerial cameras and computer mapping technology to build a picture of how, when and where people were using the space.
The main landmark of Little Bangladesh is the Alam supermarket, a Bangladeshi business that has had a store on site for 30 years.
The square with the tree is in the middle of the whole block and it is here where Bangladeshis from all over Abu Dhabi and beyond come daily.
"I don't know why, but Bangladeshis tend to congregate in much larger numbers than, say, migrant communities of Indians or Pakistanis."
That was a view shared by Amit Roy, manager of the bustling Alam supermarket. "The Bangladeshis are one of the longest-established communities in Abu Dhabi and they helped to build the city, but they are among the lowest earners – the malls and the posher places are not for them.
"They know this area is a place where they can meet their friends and family, speak their own language, share news. They feel more comfortable here."
Prof Elsheshtawy, who has made similar studies in Dubai and is author of Dubai: Behind an Urban Spectacle, believed that cities need to embrace diversity and keep human-scale development in mind by allowing spaces such as Little Bangladesh to continue.
"Cities are, after all, for people," he said.