Komen triggers heavy rains killing 70 in India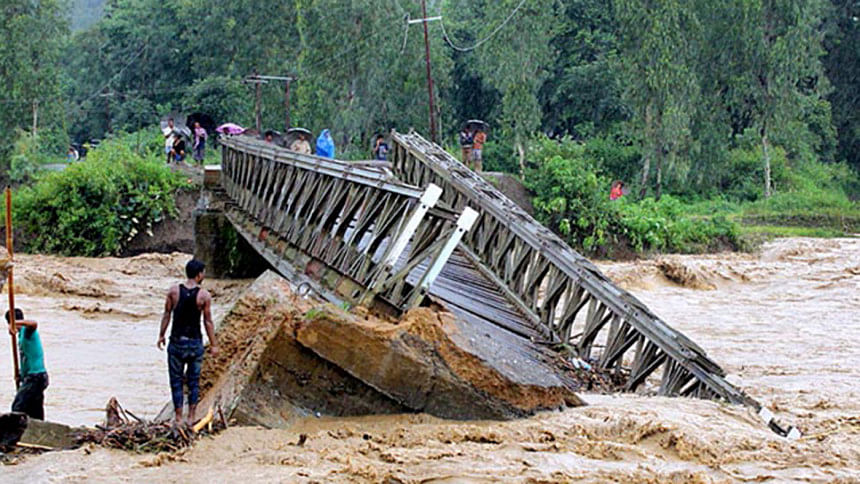 The depression that resulted from cyclone Komen has triggered heavy rain in northeastern and eastern states of India, killing at least 70 people in Manipur, West Bengal and Odisha.
In West Bengal, at least 48 people have died so far. Chief Minister Mamata Banerjee called in the army to carry out rescue operations in the flood-hit areas on Sunday, reports Hindustan Times.
Rescue operations have been carried out by Indian Army personnel at Jhawdanga village in Burdwan district from their base camp at Panagarh.
"Around 450 villagers have been already rescued from the flooded Jhawdanag village were river Bhagirathi is overflowing dangerously. Another 150 villagers are still stuck and the army is carrying out rescue operations," said Burdwan district magistrate Soumitra Mohan.
Various rivers breached their embankments and inundated several areas on Sunday. Burdwan, Murshidabad, West Midnapore, and Howrah were among the districts affected. Parts of Kolkata also remained waterlogged after continuous downpour for the past two days.
Both state and national highways were damaged in several districts, affecting vehicular movements. In Murshidabad, the administration stopped traffic on the state highway connecting Kandi and Salar after the road was flooded. Traffic on NH 60 was also severely affected in Birbhum.
In Manipur, at least 20 people died in a massive landslide at Joumol village, about 180 km south of Imphal.  Two people, including a 60-year-old farmer, died in Langmeidong and Rengkai.
A landslide devastated a village in Chandel district near Myanmar border, sweeping away several houses. Areas in and around Imphal and its outskirts were submerged in flood water.
National Disaster Response Force (NDRF) team has arrived to carry out rescue operations.
"A team of Assam Rifles have reached the spot (Joumol village) today with the help of a helicopter and carrying out search and rescue operation," an official source told the Indian daily.
Moreh, a town near Indo-Myanmar border has been cut off from Imphal due to landslide. Many villages in Ukhrul district have also been cut off from the rest of the state.
Several hundred people living on riverbanks have been relocated to safe places.
In Odisha, 10 villages were marooned. Around 479,000 people in 597 villages were affected by floods.
"All the major rivers in the state are flowing below the danger level. However, inflow of rain water from West Bengal, where heavy rainfall occurred under the effect of cyclonic system Komen, has caused marooning of some more villages in Balasore district," said special relief commissioner GVV Sarma.
The rains also affected neighbouring Myanmar, where 27 people were dead and more than 150,000 were affected by flooding. The government declared the four worst-hit areas in central and western Myanmar as "national disaster-affected regions".
The severe flood across Myanmar is creating obstacles to rescue efforts and thousands have taken shelter in monasteries.
India's met department said cyclone Komen, which hit Bangladesh on Thursday, has weakened into a depression which will move west-­northwest and gradually weaken into a well-marked low-pressure area.