Kerry begins bid to end Syrian fighting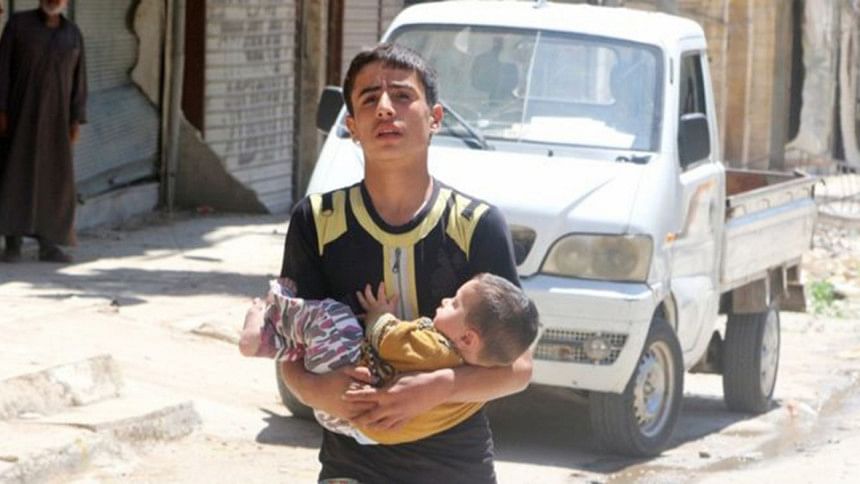 US Secretary of State John Kerry is in Geneva in an attempt to bolster a fragile, partial ceasefire in Syria.
Kerry is due to hold urgent talks on the situation with the UN envoy to Syria, Staffan de Mistura, and the Saudi and Jordanian foreign ministers.
A top priority, he said, was ending the violence in the northern city of Aleppo.
More than 250 civilians have been killed in Aleppo in the last 10 days.
A Russian defence official said earlier that negotiations were taking place to establish a ceasefire there.
The US wants Russia to put pressure on its ally the Syrian government to stop what it says is indiscriminate bombardment.
The Russian and Syrian governments say the Aleppo strikes are targeting the Nusra Front - a jihadist force not party to a ceasefire agreed in February.
'Critical hours'
"We are talking directly to the Russians, even now," Mr Kerry said on arrival in the Swiss city, as he began talks with Jordanian Foreign Minister Nasser Judeh.
"These are critical hours. We look for Russia's co-operation. We obviously look for the regime to listen to Russia and to respond to the international communities' powerful statement to the UN Security Council."
The US secretary of state stressed that a UN Security Council Resolution called for a "full country, countrywide, cessation and also for all of the country to be accessible to humanitarian assistance".
"Obviously that hasn't happened and isn't happening," he said.
Speaking from Russia's Hmeimim air force base in Syria, Lt Gen Sergei Kuralenko told Russian news agencies that "active negotiations" were under way to establish a "regime of calm in Aleppo province".
The Russian defence ministry official gave no details but added that "regime of calm" around the Syrian capital had been extended until 21:00 GMT on Monday.
His comments indicate a shift in Russia's position. On Saturday, Moscow said it would not force the Syrian military to stop its campaign, which has threatened the complete collapse of peace efforts.
'Quieter day'
The truce between President Bashar al-Assad's forces and moderate rebels in Syria has broken down in recent months, especially in the divided and besieged Aleppo.
Large parts of the city - Syria's largest - have been destroyed, leaving civilians without water and electricity for months.
Reports suggest the situation in Aleppo was quieter on Sunday than in recent days despite some new air strikes by government forces and shelling by rebels.
A new round of UN-backed peace talks is set to start on 10 May in Geneva.