Kenya mourns Garissa attack dead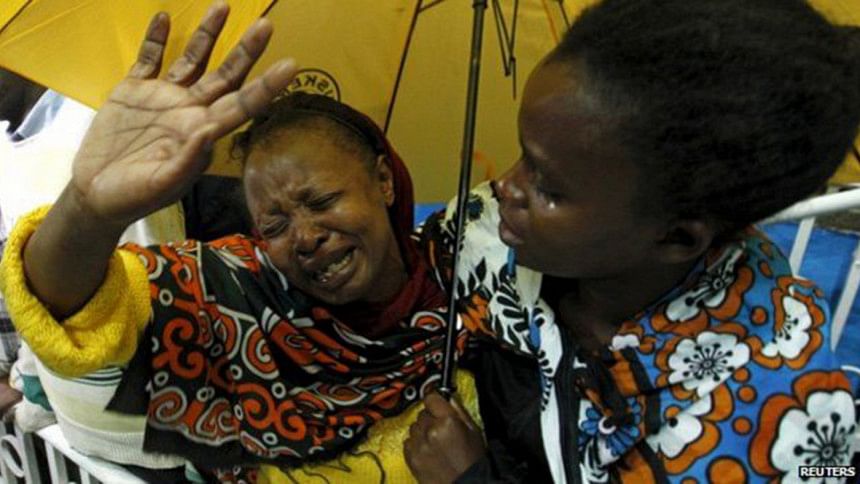 Kenya has begun three days of mourning following the massacre of over 100 students by militant group al-Shabab.
Easter ceremonies will be held to remember the 148 victims of the attack on Garissa University, and flags are expected to fly at half-mast.
President Uhuru Kenyatta has vowed to respond to the attack "in the severest ways possible".
Sunni Islam's most respected seat of learning, Cairo's al-Azhar University, has also condemned the attack.
The Kenyan Red Cross says that so far 54 of the victims have been identified by relatives at a morgue in the capital, Nairobi.
Buses are transporting more than 600 students and about 50 staff who survived the attacks to their hometowns.
Many survivors have been reunited with their families at Nairobi's Nyayo National Stadium which has been set up as a disaster centre.
Eighteen-year-old Lavenda Mutesi, who jumped out of her dorm room window to escape the attack, told AP: "As much as I'm grateful, I wish my friends were here, because I wish they could share this moment with me, with their parents... I lost a whole lot of friends."
Almost all of the 148 killed were students and another 79 people were injured.
Four gunmen were killed, and officials say they are holding five people for questioning - one of whom is believed to be a university security guard.
United in grief
Both Christians and Muslims have denounced the attack. On Sunday, Sunni Islam's most respected seat of learning, Cairo's al-Azhar University, said it condemned the "terrorist attack".
Pope Francis is expected to use his traditional Easter Sunday message to describe the students as contemporary Christian martyrs.
In Kenya, people took the streets to protest the killings and reject the idea that al-Shabab had succeeded in dividing the country,
"What I can say is that here in Eastleigh [a Somali and Muslim Nairobi suburb] both Christians and Muslims are doing business together. There is harmony... There is no religion that says people should kill one another," one man told the BBC.
'Defend our way of life'
On Saturday, President Kenyatta said that al-Shabab posed an "existential threat" to Kenya.
He vowed to "fight terrorism to the end" and said the militants would not succeed in their aim of creating an Islamic caliphate in Kenya.
The president's address came as the relatives of victims queued at a morgue in the capital Nairobi to identify their loved ones.
The bodies were flown to Nairobi for identification, as local mortuaries have been unable to cope, and many of the students killed came from other parts of the country.
The bodies of the four gunmen who died remain in Garissa, where they were put on public display on Saturday.
Earlier on Saturday, a 19-year-old girl was found unhurt in a cupboard on the university campus, where she had hid for two days.
There has been criticism in Garissa, which is 150km (100 miles) from the Somali border, at how the security services dealt with the attack.
Only two guards were on duty at the time of the assault, despite official warnings that an attack on an institution of higher learning was likely.
Al-Shabab, which is based in neighbouring Somalia, has pledged a "long, gruesome war" against Kenya.
The group said its attacks were in retaliation for acts by Kenya's security forces, who are part of the African Union's mission in Somalia against al-Shabab.