Intruder arrested in grounds of Buckingham Palace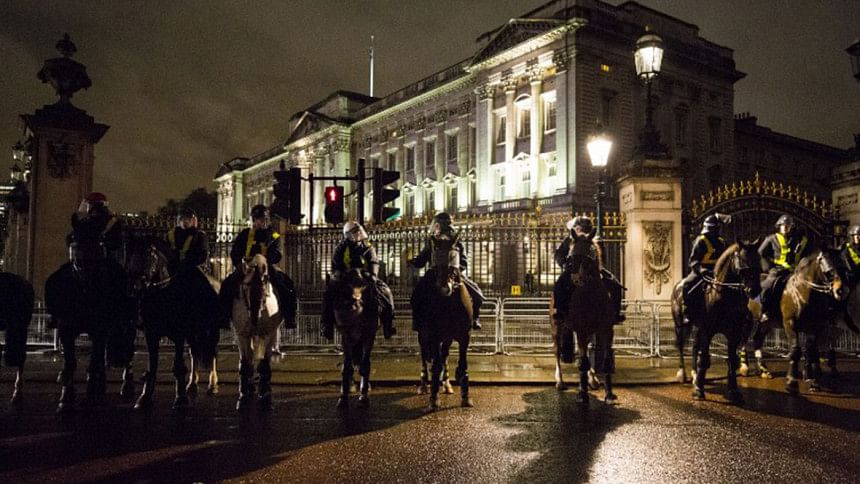 British police said today they had arrested a man who climbed the perimeter wall and entered the grounds of Buckingham Palace, the London residence of Queen Elizabeth II.
During the incident, which took place yesterday evening, the 41-year-old man was in the palace grounds for seven minutes before he was found by police and arrested on suspicion of trespassing.
The suspect, who was not armed, is in custody. Police were alerted to his presence when he tripped an alarm.
Commander Adrian Usher, head of the Metropolitan Police's Royalty and Specialist Protection, said: "I am content that our security measures worked effectively on this occasion and at no time was any individual at risk."
The queen was likely to have been at home at the time, after attending the State Opening of Parliament earlier in the day. She is hosting a garden party at the palace today afternoon.
A spokeswoman for the queen said: "We never comment on security, which is a matter for the police."
The police statement said: "At 8.37pm (1937 GMT) on Wednesday May 18, officers at the palace were alerted after a 41-year-old man scaled an outside perimeter wall.
"He was located in the grounds by officers and arrested on suspicion of trespassing on a protected site (contrary to section 128 of the Serious Organised Crime and Police Act 2005) seven minutes after the alarm was activated."
It added: "The man was not armed. Taser was not deployed by officers."
Palace security breaches are unusual.
In 2004, a campaigner for divorced fathers to have more rights to see their children dressed up as Batman and climbed onto a ledge next to a balcony at the palace.
The most serious incident was in 1982, when Michael Fagan, a petty criminal with mental health issues, managed to reach the queen's bedroom.
He claimed that she went to get a footman, who offered him a drink while they waited for police to arrive.