Don't exclude Assam from LBA, Gogoi urges Modi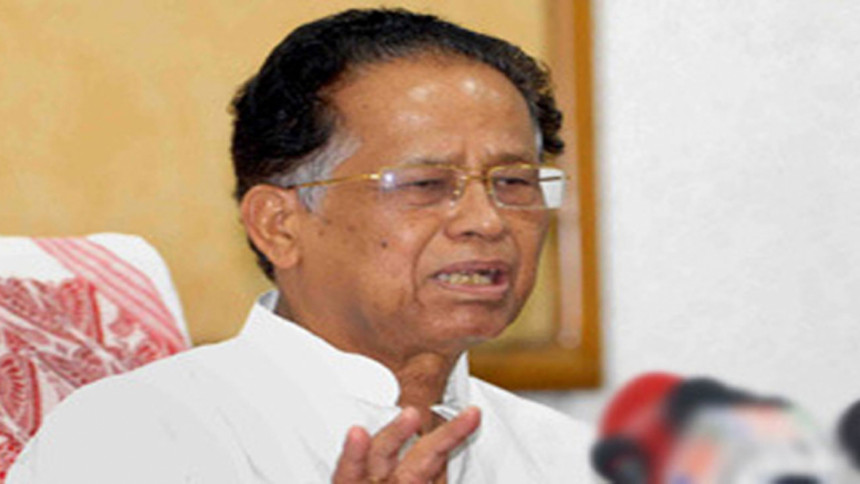 With reports emanating from New Delhi that the BJP-led government at the centre was keen to exclude Assam from implementation of Land Boundary Agreement with Bangladesh, Assam Chief Minister Tarun Gogoi has requested Indian Prime Minister Narendra Modi not to take such a decision.
Gogoi, in a letter to Modi yesterday, expressed surprise at the reported decision of the Indian government not to include clauses relating to the Assam sector in the protocol ratified by parliament without any consultation with the government of Assam, the Indian Express reports.
The chief minister had accompanied the then prime minister Manmohan Singh to Dhaka when the two countries had signed the protocol on September 6, 2011.
"We are completely in the dark about the reasons behind this turnaround and how the interest of the people of Assam is going to be protected by the exclusion of the clauses relating to Assam during the process of ratification by Parliament. This decision is also against the principles of cooperative federalism which you have been advocating," Gogoi said.
Gogoi asks PM Modi not to exclude Assam from India-Bangladesh land boundary agreement: With reports emanating ... http://t.co/w5fPgTpcDw

— India News Links (@dlIndianews) May 2, 2015
He in his letter pointed out that the provisions of the protocol were an integral part of the 1974 Agreement between the Government of India and the Government of Bangladesh.
"As a result of the protocol, the Radcliff Line demarcating the India-Bangladesh border in the Assam sector namely, Lathitilla-Dumabari sector in Karimganj district, Kalabari (Boroibari) area in Dhubri district and the Pallathal area in Karimganj district of Assam will be re-drawn as agreed to in the protocol," Gogoi said.
"It is seen as a result of the re-demarcation, approximately 714 acres of land area in Lathitilla area will formally become part of India (Assam) and an area of 193.85 acres of land in Kalabari (Boroibari) and 74.55 acres of land in Pallathal area will formally belong to Bangladesh. These 268.40 acres of land are already under adverse possession of Bangladesh. Therefore, India (Assam) will formally get a net land area of 445.6 acres with reference to the Radcliff Line," Gogoi said.
The Assam chief minister also reminded Modi of his statement made during his visit to Assam in November 2014 that the Protocol 2011 to the Indo-Bangladesh Boundary Agreement, 1974 would benefit Assam in the long run.
"The agreement, if ratified along with the clauses relating to Assam sector would not only lead to a permanent solution to the long standing India-Bangladesh border disputes in the Assam sector but also facilitate demarcation of undemarcated areas in Lathitilla-Dumabari," Gogoi said.
"Construction of border fencing will also prevent illegal infiltration of foreigners and subversive elements, smuggling, etc by sealing the porous border," the Assam chief minister added.