Trio win Nobel Medicine Prize for parasite therapies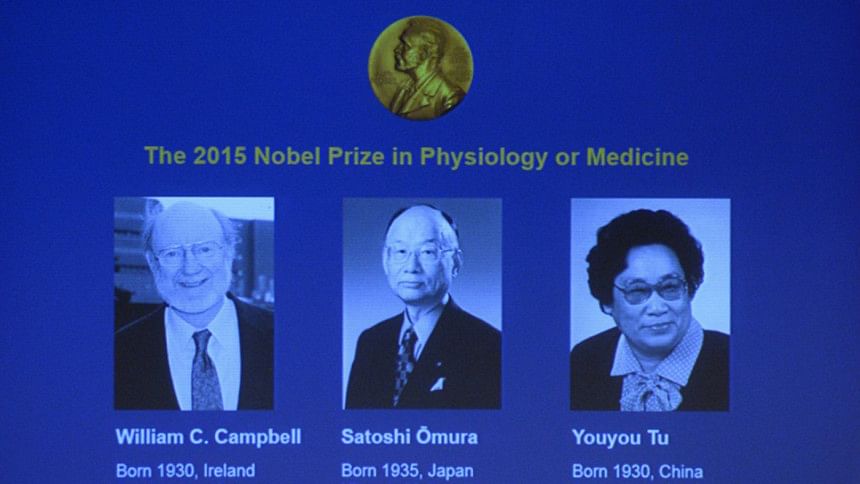 Irish-born William Campbell, Satoshi Omura of Japan and China's Youyou Tu won the Nobel Medicine Prize on Monday for their discoveries of treatments against parasites, the jury said.
Campbell and Omura shared one half of the prize for "their discoveries concerning a novel therapy against infections caused by roundworm parasites", while Tu won the other half "for discoveries concerning a novel therapy against malaria," the Nobel Assembly at Sweden's Karolinska Institute said.
Campbell and Omura discovered a new drug, Avermectin, "the derivatives of which have radically lowered the incidence of River Blindness and Lymphatic Filariasis, as well as showing efficacy against an expanding number of other parasitic diseases," a statement from the Nobel Assembly said.
Tu, 84, meanwhile discovered Artemisinin, a drug that has significantly reduced the mortality rates for patients suffering from malaria, it added.
She based her discovery on Chinese traditional herbal medicine.
"These two discoveries have provided humankind with powerful new means to combat these debilitating diseases that affect hundreds of millions of people annually. The consequences in terms of improved human health and reduced suffering are immeasurable," the committee said.
This year's Nobel laureates will share the eight million Swedish kronor (around $950,000 or 855,000 euros) prize sum.
Last year, the prize went to British-American researcher John O'Keefe and a Norwegian couple, Edvard Moser and May-Britt Moser, for discovering the brain's "inner GPS" that helps people navigate.
The Nobel awards week continues on Tuesday with the announcement of the winners of the Nobel Physics Prize.
The chemistry prize laureates will be revealed on Wednesday, followed by the literature prize on Thursday.
The peace prize will be announced in Oslo on Friday, and the economics prize will wrap up this year's Nobel season on Monday, October 12.
The laureates will receive their prizes at a formal ceremony in Stockholm on December 10, the anniversary of the 1896 death of prize creator Alfred Nobel, a Swedish philanthropist and scientist.
A separate ceremony is held for the peace prize on the same date in Oslo, which Nobel wanted to include in his initiative because Norway and Sweden were joined in a union when he created the prizes.