Canada wildfire threatens neighbouring province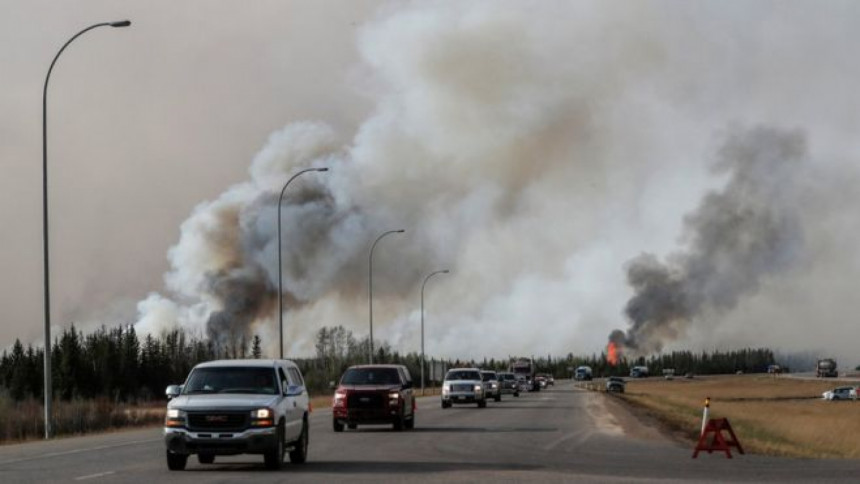 A huge wildfire raging in the Canadian province of Alberta is growing further and could spill in to neighbouring Saskatchewan, officials say.

Hot, dry and windy conditions are hampering efforts by hundreds of firefighters to tackle the blaze.

The flames have already caused the evacuation of 80,000 people from the oil city of Fort McMurray.

Thousands are still stuck north of the city but the authorities hope to finish their evacuation by the end of the day.

"The Fort McMurray wildfire is still burning out of control," said Alberta Premier Rachel Notley.

"Temperatures are forecast to be in the high twenties with winds gusting up to 40km/h (25mph). In these conditions officials tell us the fire may double in size in the forested areas today."
Earlier this week, most evacuees headed south but some fled north, sheltering in work camps beyond Fort McMurray.

Thousands have since been shuttled out by road and air, with small convoys passing through the fire-ravaged city on Saturday.

Notley said the goal was to complete the evacuations by the end of Saturday.

The blaze has ruined entire neighbourhoods, with residents warned it could be some time before they could return.

Despite the mandatory order to leave, the Royal Canadian Mounted Police (RCMP) have said they found an elderly man and a family of five in Fort McMurray. They were led to safety.

Some 1,600 homes and other buildings have been lost but no deaths or injuries have been reported.