EU won't recognise Jerusalem as Israel's capital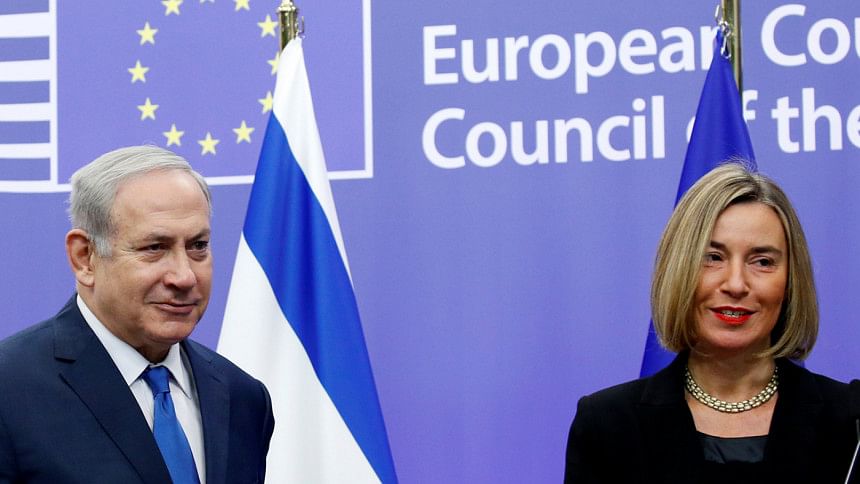 Israeli Prime Minister Benjamin Netanyahu on Monday urged the European Union to follow US President Donald Trump's lead and recognise Jerusalem as Israel's capital, but EU ministers shook their heads at Trump's move.
Netanyahu, arriving for a meeting of EU foreign ministers in Brussels, said Trump's move made peace in the Middle East possible "because recognising reality is the substance of peace, the foundation of peace."
But even Israel's closest European allies such as the Czech Republic warned Trump's decision was bad for peace efforts, while France insisted Jerusalem's status could only be agreed in a final deal between Israelis and Palestinians.
Asked by reporters about Trump's decision to switch the US Embassy to Jerusalem, Czech Foreign Minister Lubomir Zaoralek said: "I'm afraid it can't help us."
Netanyahu, who has been angered by the EU's search for closer business ties with Iran, said Trump's move, condemned by the Palestinians and by Europe, should be emulated by them.
"It's time that the Palestinians recognise the Jewish state and also recognise the fact that it has a capital. It's called Jerusalem," he said, after flying into Brussels from Paris after a meeting on Sunday with France's President Emmanuel Macron.
"I believe that, even though we don't have an agreement yet, this is what will happen in the future. I believe that all, or most, of the European countries will move their embassies to Jerusalem, recognise Jerusalem as Israel's capital and engage robustly with us for security, prosperity and peace."
Last week, the Czech foreign ministry said it would begin considering moving the Czech Embassy from Tel Aviv to Jerusalem, which many in Israel saw as an endorsement of Trump's move.
But Prague later said it accepted Israel's sovereignty only over West Jerusalem.
EU foreign ministers reiterated the EU position that the lands Israel has occupied since a 1967 war - including the West Bank, East Jerusalem and the Golan Heights - are not part of the internationally recognised borders of Israel.
"I'm convinced that it is impossible to ease tension with a unilateral solution," Zaoralek said as he and his counterparts arrived for a breakfast with Netanyahu. "We are talking about an Israeli state but at the same time we have to speak about a Palestinian state."
STILL AWAITING US PEACE PLAN
France's Foreign Minister Jean-Yves Le Drian urged Washington to come forward with peace plans that are being drawn up by Jason Greenblatt, Trump's Middle East envoy, and Trump's son-in-law and senior adviser, Jared Kushner.
"We've been waiting already for several months for the American initiative, and if one is not forthcoming that the European Union will have to take the initiative," Le Drian said.
The EU believes it has a duty to make its voice heard as the Palestinians' biggest aid donor and Israel's biggest trade partner, even if EU governments have varying degrees of sympathy towards Israel and the Palestinians.
Some in Israel see the European Union as being too pro-Palestinian because it insists products made in Israeli settlements must be clearly labelled in Europe.
EU foreign policy chief Federica Mogherini, welcoming Netanyahu on the first visit to the EU by an Israeli premier in 22 years, that the bloc would continue to recognise the "international consensus" on Jerusalem.
She repeated the Union's commitment to a two-state solution and that it was in Israel's interest to find a sustainable solution to its conflict with the Palestinians. The EU, she said, would step up its peace efforts and would hold talks with Palestinian President Mahmoud Abbas next month.
She also condemned attacks on Israel and on Jews elsewhere in the world, including in Europe. Trump's plan to move the US embassy from Tel Aviv to Jerusalem has prompted sometimes violent protests.
A demonstration condemning Netanyahu's visit was planned for later in the morning in Brussels.