EU launches operation to seize migrant smugglers' boats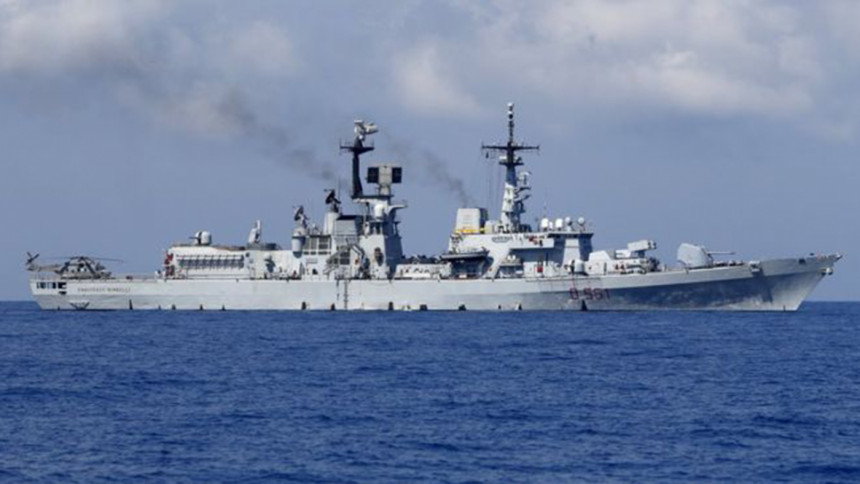 The EU is beginning a new operation to intercept boats smuggling migrants across the southern Mediterranean.
Under Operation Sophia, naval vessels will be able to board, search, seize and divert vessels suspected of being used for human trafficking.
Until now the EU has focused on surveillance and rescue operations.
So far this year, more than 130,000 migrants and refugees have crossed to Europe from the north African coast. More than 2,700 have drowned.
The huge numbers of migrants reaching Europe have led to a crisis within the EU, with member states at odds on how to deal with the influx.
The deadliest voyages are from Libya to Italy, although more migrants are now taking the Turkey-Greece route.
The EU launched the first phase of its operation, called EUNavfor Med, in June, using naval surveillance to detect smugglers' boats and monitor trafficking patterns from Libya towards Italy and Malta.
Operation Sophia - the second phase - has been named after a baby born on an EU ship that rescued her mother off the coast of Libya in August.
From its headquarters in Rome, the operation's commander, Rear Admiral Enrico Credendino, will oversee several EU warships in the Mediterranean, including the British frigate HMS Richmond.
The EU's foreign policy chief Federica Mogherini explained in September: "We'll be able to board, search, seize vessels in international waters, [and] suspected smugglers and traffickers apprehended will be transferred to the Italian judicial authorities."
The BBC's James Reynolds in Rome says it is not immediately clear if the mission will make a practical difference to the number of journeys made by smugglers.
The EU aims to eventually operate within Libya's territorial waters, he adds, but this will only be possible with the approval of either the UN Security Council or Libya itself.
A senior migration expert has warned, however, that the EU operation in the Mediterranean will fail unless the bloc also fights criminal gangs in Europe.
Eugenio Ambrosi, of the International Organization for Migration (IOM), said the "transnational criminal rings of traffickers are the same as those involved in weapons and drugs".
"The boats are not the reason for the smuggling," Ambrosi said, adding that if efforts are just focused on the boats "the nucleus of the criminals remains untouched".
The migrant crisis is expected to be one of the issues raised when German Chancellor Angela Merkel and French President Francois Hollande make a rare joint address to the European Parliament in Strasbourg on Wednesday.
The only previous such address was in 1989 with then French President Francois Mitterrand and the German leader Helmut Kohl.