EU demands progress on Brexit divorce before trade talks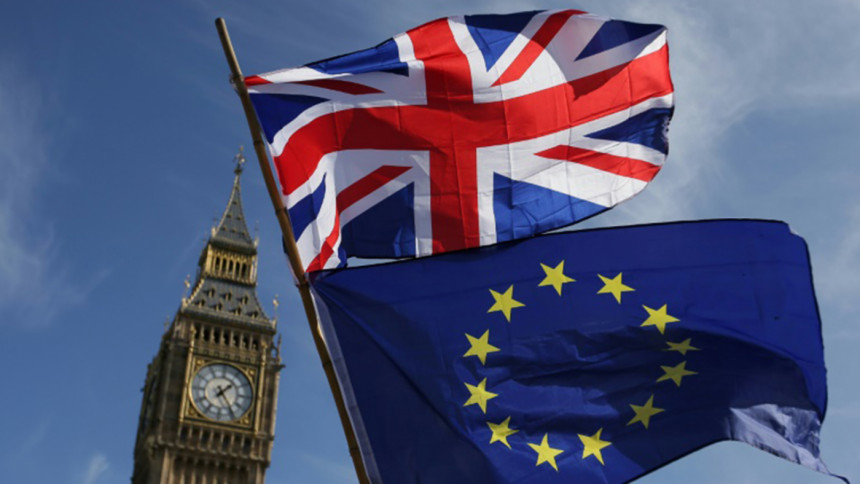 The European Union demanded that Britain make "sufficient progress" on its divorce before talks on a trade deal can start as it laid out its tough Brexit negotiating plans Friday.
EU president Donald Tusk ruled out an immediate start to parallel talks, as demanded by British Prime Minister Theresa May on Wednesday in her letter triggering the historic two-year Brexit process.
Tusk's draft negotiating guidelines add that the other 27 countries are ready for a transitional deal after Britain's exit in 2019, but that any such arrangement must be under strict EU rules.
Former Polish premier Tusk said it was his "first divorce and I hope the last one", adding that while he hoped it would not be confrontational the EU would stick to its principles during the talks.
"The EU 27 does not and will not pursue a punitive approach. Brexit itself is already punitive enough," he told a news conference in the Maltese capital Valletta as he revealed his plans.
The EU is keen to stress its unity as it faces the wrenching departure of one of its biggest members, the first time a country has left the bloc in its 60-year history.
Tusk's guidelines will now be sent out to the leaders of the 27 remaining EU countries, which will suggest changes ahead of a special summit in Brussels to approve the plans on April 29.
Germany and France had already set out a united and uncompromising stance against May's demands.
'Sufficient progress'
"Starting parallel talks on all issues at the same time as suggested by some in the UK will not happen," Tusk said.
"Once and only once we have achieved sufficient progress on the withdrawal can we discuss the framework for our future relationship."
The guidelines say that the EU called for a "phased approach" that prioritises an orderly withdrawal that reduces the disruption caused by Britain's departure in March 2019.
The fate of three million EU citizens living in Britain and one million British people within the bloc's 27 other nations is at the top of leaders' agenda.
Also looming large is the so-called "exit bill" which Britain will have to pay, estimated to be as much as 60 billion euros ($64 billion, £52 billion), and the border between Northern Ireland and Ireland.
"The European Council (EU leaders) will monitor progress closely and determine when sufficient progress has been achieved to allow negotiations to proceed to the next phase" on a future relationship, the draft guidelines say.
A decision on that could come by the end of this year, a senior EU official said.
The EU said that no trade deal can be agreed on before Brexit takes effect.
But it is also open to a transitional arrangement after Brexit as a "bridge" to a future deal some years down the line, but said that it would have to be under EU rules and the European Court of Justice.
It said it will "prepare itself to be able to handle the situation also if the negotiations were to fail."
'No bargaining chip'
The EU's chief negotiator, France's Michel Barnier, is expected to get the green light to start talks with Britain on May 22, an EU official said.
May formally notified the EU of Britain's intention to leave in a letter to Tusk on Monday that diplomats described as surprisingly conciliatory in tone for the most part.
But May's warning in the letter that failure to clinch a deal on trade would affect Britain's cooperation on terrorism and security still rankled with many.
British Foreign Secretary Boris Johnson, in Brussels as NATO ministers met US Secretary of State Rex Tillerson, said London was committed to European security and that it was "not some bargaining chip" in the Brexit talks.
Tusk added he was sure that a "wise and decent" Britain would not do so.
Maltese Prime Minister Joseph Muscat, whose country holds the EU's six-month rotating presidency, meanwhile called for the fate of EU citizens in Britain not to be used in the same way.
EU leaders hope to resolve the divorce issues by the end of the year before moving on to the future relationship and a possible transition.
But that leaves only 10 months before October 2018 when Barnier says the talks must wrap up to give time for the European Parliament and member states to approve what the negotiators come up with.
Britain has meanwhile started laying plans for the daunting task of bringing thousands of items of EU regulation into British law on the day that Britain leaves the EU.
But May is struggling to bring unity in the wake of the divisive Brexit referendum last June that saw 52 percent vote in favour of leaving the EU and 48 percent against.