EU agrees to tighten borders after Paris attacks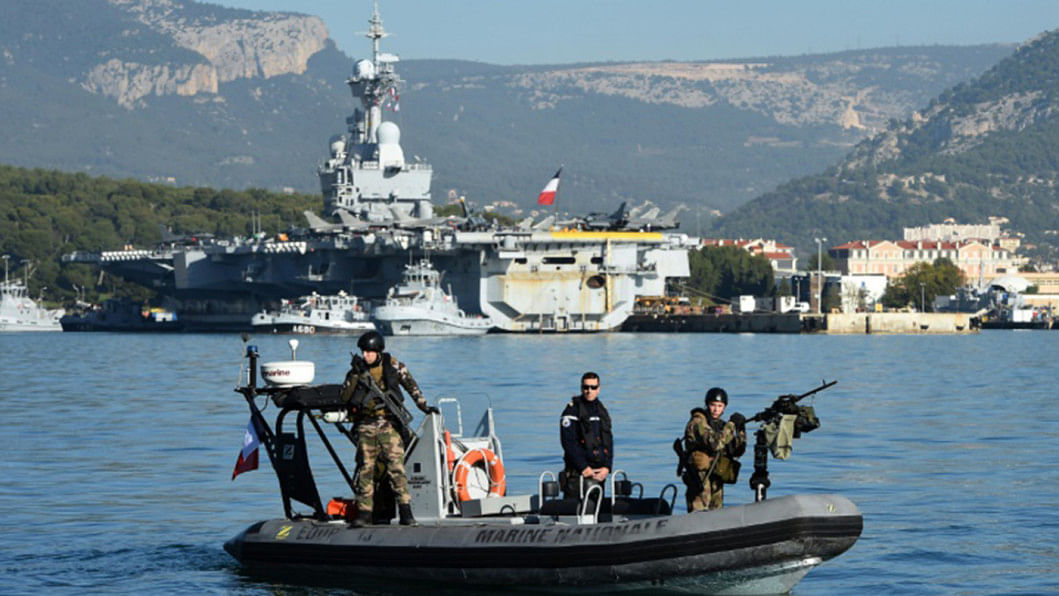 EU ministers agreed today to get tough on border security after the devastating Paris attacks, as prosecutors said a third body had been found following a police raid on the ringleader's hideout.
Adding to fears about the global jihadist threat, gunmen seized 170 people in a hotel used by foreigners in the capital of Mali, with at least three hostages killed.
EU ministers agreed at emergency talks in Brussels to tighten checks on all travellers at the borders of the passport-free Schengen zone.
The European Commission also called for the establishment of an EU-wide intelligence agency in the wake of the Paris massacre that left 129 people dead last Friday.
"We hope that Europe, which has wasted too much time on a number of urgent issues, today takes the decisions that we must take," French Interior Minister Bernard Cazeneuve said as he arrived for the talks.
In Paris, prosecutors said a third body had been found at the scene of a massive police raid in a northern suburb on Wednesday in which suspected attacks ringleader Abdelhamid Abaaoud was killed.
They also disclosed that a body found in the rubble of the Saint Denis apartment was Abaaoud's female cousin Hasna Aitboulahcen.
Police had raided her mother's house on Thursday as it emerged the 26-year-old Aitboulahcen had turned from a party girl who liked wearing cowboy hats to a radical Islamist who adopted the full-faced veil six months ago.
The identity of the third body has not been revealed.
Another key suspect, Salah Abdeslam, remains unaccounted for and is thought to be one of the only surviving members of the group of assailants behind the Paris bloodshed.
His suicide-bomber brother Brahim Abdeslam blew himself up at a cafe, without killing anyone else.
Prosecutors also revealed Friday that Abaaoud, a 28-year-old Belgian of Moroccan origin, was filmed at a Metro station in the capital on the night of the carnage.
He was caught on closed-circuit television at 10.14 pm in a station in the eastern district of Montreuil less than an hour after gunmen began spraying cafes and restaurants with gunfire in the trendy Canal St Martin area.
Montreuil was where a black Seat car believed to have been used in the attack on the restaurants was later found.
- Tough questions -
In Mali, another outrage apparently perpetrated by jihadist gunman was unfolding at the Radisson Blu hotel, where 170 guests and staff were seized.
Security forces have stormed the 190-room hotel in the capital Bamako which is popular with foreign visitors. The security ministry said at least three hostages were killed.
In Europe, the proof that Abaaoud -- who is believed to be a senior Islamic State commander -- was in Paris on the night of the attacks raises further questions about how he managed to slip through Europe's net.
Prime Minister Manuel Valls admitted Thursday that French authorities did not know how he had managed to get into the country, when he was under an international arrest warrant.
Abaaoud was thought to have been in Syria -- where he had boasted of planning attacks on the West.
And the EU meeting was being held amid concerns about how the Paris gunmen were able to remain under the radar despite some showing signs of radicalism and moving through several European countries.
"I believe it is a moment to make one more step forward and put the basis for the creation of a European intelligence agency," EU migration commissioner Dimitris Avramopoulos told reporters in Brussels.
But German Interior Minister Thomas de Maiziere said he found it hard to believe that the 28-nation EU was "ready to give up our national sovereignty".
"We should concentrate on the improvement of the exchange of information between existing institutions," he said.
Abaaoud's links to Syria and the discovery of a Syrian passport near the dead body of one of the gunmen -- its identity still has to be verified -- have also stoked concerns that jihadists could be posing as refugees as a cover for plotting attacks.
- Russian parliament meets -
In the US, the Republican-dominated Congress on Thursday voted to ban Syrian and Iraqi refugees from entering the United States until tougher screening measures are in place.
And in Russia, reeling after a Russian airliner was downed in Egypt killing 224 people on board in another attack claimed by IS, both chambers of parliament will hold an extraordinary meeting on tackling terrorism on Friday.
Abaaoud himself was the subject of an arrest warrant issued by Belgium, where in July he was sentenced in absentia to 20 years in prison for recruiting jihadists for Syria.
But it was only three days after the Paris bloodbath that "intelligence services of a country outside Europe indicated they had knowledge of his presence in Greece", Cazeneuve said. Reports say the information came from Morocco.
Abaaoud was also checked by police at an airport in Germany on his way to Istanbul in early 2014, officials said, but he was allowed to go as they had no instructions to arrest him.
Abaaoud was involved in four attack plots foiled in France this year, Cazeneuve has said. Investigators are also probing links to an attempted attack on a high-speed train in August that was thwarted when passengers overpowered the gunman.
Meanwhile, a week on from the attacks, Parisians were urged to return to bars and restaurants later Friday. Bars were already thronged with revellers on Thursday for the traditional annual release of the Beaujolais Nouveau wine.