Migrant crisis: Thousands stranded at Balkan borders
Thousands of migrants have been stranded at borders in the Balkans, in cold and wet conditions, as their path to western Europe is blocked.
Several hundred, including young children and babies, spent the night in the open at Croatia's border with Slovenia.
The UN refugee agency (UNHCR) also complained of a lack of basic supplies at the Serbia-Croatia border.
The western Balkan route has been disrupted by government restrictions.
Hundreds of thousands of migrants, many from Syria, Africa and Afghanistan, have been making their way from Turkey to the Balkans in recent months, in a bid to reach Germany, Sweden and other EU states.
But Slovenia decided at the weekend to restrict the numbers crossing its territory in response to what it said was Austria's new policy of cutting the numbers entering - something Austria denies. Hungary earlier closed its border with Croatia to migrants.
More than 10,000 migrants are now stranded in Serbia, barred from entering Croatia, according the UNHCR.
"There is a lack of food, lack of blankets - we are missing everything," spokeswoman Melita Sunjic told Reuters.
At Serbia's Berkasovo border crossing point, the director of the London-based Humanitas charity, Ramiz Momeni, described "an onslaught of people" and problems with hypothermia.
"We don't have a chance to treat; we don't have the actual medicine to be given out; we don't have any more rain coats."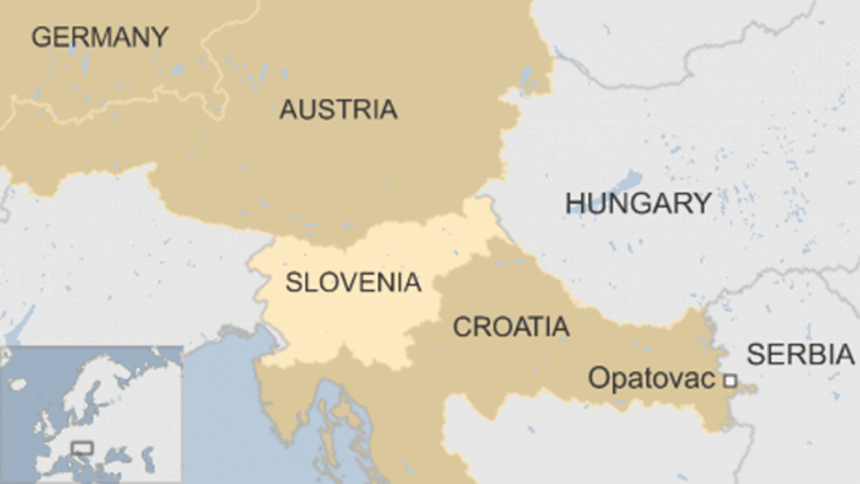 On the Croatia-Slovenia border, 500 people spent the night in the open at Trnovec. Police have now allowed them to shelter under canopies attached to immigration huts.
A further 1,800-2,000 slept on a train held on the Croatian side of the border.
Officials told them they could stay temporarily in Croatia or try to make their own way into Slovenia.
Croatia had asked its northern neighbour Slovenia to accept 5,000 migrants daily, but Slovenia said it would only take half that number.
Explaining Slovenia's new restrictions on Sunday, Interior Ministry State Secretary Bostjan Sefic said its northern neighbour Austria was only accepting a maximum of 1,500 people a day.
He said that Slovenia "cannot accept unlimited numbers of migrants if we know that they cannot continue their journey".
But a spokesman for the Austrian Interior Ministry, Karl Heinz Grundboeck, told the BBC that Austria was continuing to allow in migrants from Slovenia.
He said were no specific limits on the number of people allowed in each day and that migrants were continuing to arrive.
Hungary, citing security concerns, has closed its borders with Serbia and Croatia, forcing migrants to switch to a slower route via Slovenia.
There are reports in Slovenian media that restrictions on its borders with Austria and Croatia are being eased.
Germany's welcome for Syrian migrants continues to create internal political tensions.
The Pegida organisation, which campaigns against immigration, says it expects tens of thousands to demonstrate in the eastern city of Dresden on Monday evening.
Interior Minister Thomas de Maiziere has described Pegida as "hard-right extremists".
More than 600,000 people, most of them Syrians, have reached Europe so far this year compared with just over 200,000 for the whole of 2014.
Germany has said it expects 800,000 asylum seekers this year, but it is believed the number could be as high as 1.5 million.