Defiant Merkel takes on protestors at rowdy campaign rally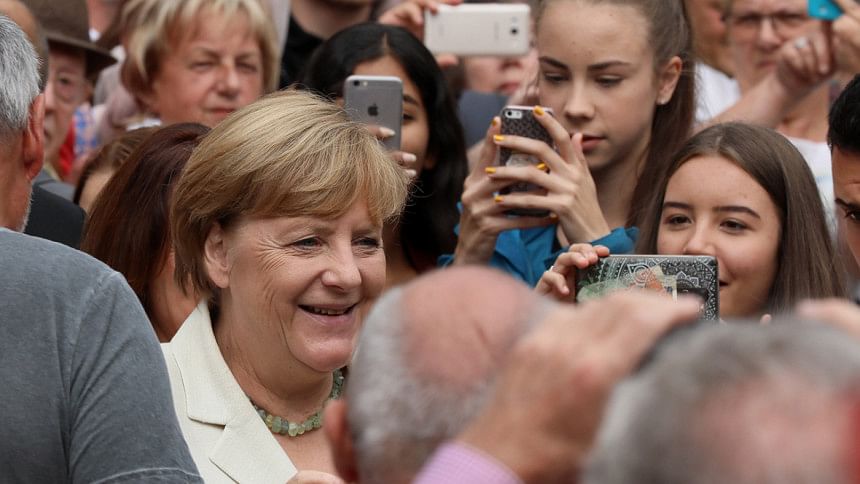 Chancellor Angela Merkel stood up to rowdy protestors who tried to drown out her campaign speech with deafening jeers and whistles in the eastern town of Quedlinburg on Saturday, telling them that their angry shouts would not solve Germany's problems.
Amid chants of "Merkel just go" and "Liar, liar" that demonstrators strongly opposed to her refugee policies kept up for the entire 30-minute address, Merkel departed from her stump speech three times.
"I hope you were able to understand some of that even though some of you out there kept on yelling," a glum-looking Merkel said near the end of her speech to 1,500 people.
"Some believe the problems in Germany can be fixed by screaming - but I don't think so and the majority of the people here don't think so either," said Merkel, who is seeking a fourth term in office and is the heavy favorite to win the Sept. 24 election.
"Some people can't do anything else but scream and shout - but we're not going to let them lead us astray."
German Chancellor Angela Merkel a top candidate for the upcoming general elections of the Christian Democratic Union party (CDU) looks on during an election campaign rally in Quedlinburg, Germany, August 26, 2017.
Reinhard Krause
Even though Merkel's conservative Christian Democrats are far ahead of the center-left Social Democrats (SPD) in opinion polls, some conservative voters are angry that she has opened Germany's borders to more than a million refugees since late 2015.
That anti-Merkel sentiment and the surge of refugees from Syria, Iraq and other troubled regions has fueled the rise of the far-right Alternative for Germany (AfD) party, which pollsters say could win up to 10 percent in the September election.
Some of the anti-Merkel signs in the crowd read "Go to the Muslims", "Get lost Merkel", and "Save the constitution from Merkel", and bore the AfD label. One large white banner with blood-like red marks on it read sarcastically: "Thanks Merkel".
It was only the second campaign appearance by Merkel in formerly communist eastern Germany, where anti-foreigner sentiment is especially pronounced. Last week she faced jeers and shouts of "Traitor" while speaking in Annaberg-Buchholz.
In Saturday's speech Merkel made it clear that refugees were welcome in Germany even though she conceded there could not be a repeat of the influx.
"Diversity makes us strong in Germany and that's something we want to maintain," she said.