Australia to pass law to strip citizenship for terror crimes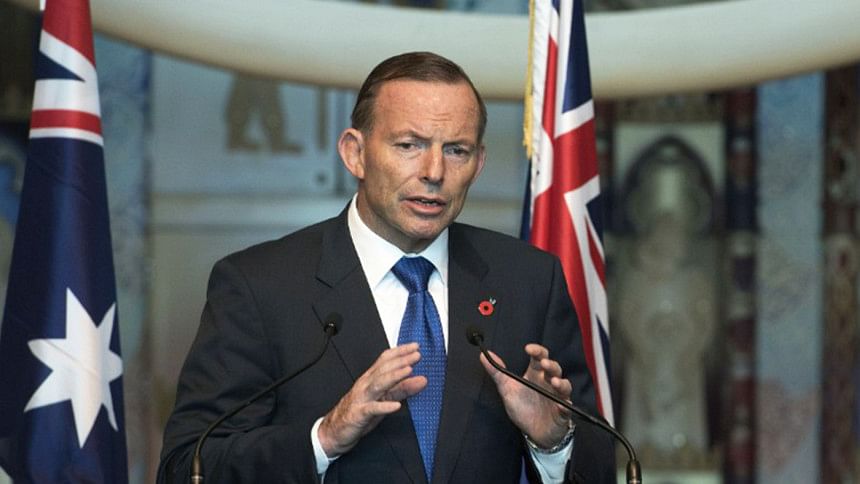 Australia plans to pass a law within weeks to give the government power to strip citizenship from dual nationals who are suspected terrorists even if they are not convicted of a crime, the prime minister said Tuesday.
More than 100 Australians are suspected to be fighting with the Islamic State movement and other terrorist groups in Syria and Iraq. Up to 50 percent of those fighters were estimated to be dual citizens, Prime Minister Tony Abbott said.
The amendments to the Citizenship Act would allow Islamic State supporters both overseas and at home to be treated the same as Australians who join foreign armies at war against Australia, Abbott said.
The Immigration Minister Peter Dutton would have the discretion to revoke Australian citizenship from dual nationals suspected of terrorism, even if they had been not been convicted of any offense, Abbott said. The decision would be subject to judicial appeal.
"There should be no difference in how we treat Australians who join a hostile army and those engaged in terrorism -- both are betraying our country and don't deserve to be citizens of Australia," Abbott said in a statement.
The amendment would bring Australian citizenship laws closer to those the United States, Canada, France and Britain, he said. No one was to be left stateless by losing their Australian citizenship.
Australia has the third largest proportion of overseas-born residents of any country, following only Israel and Luxembourg, the government said.
Islamic State militants have had conspicuous success in recruiting in Australia, which has 24 million people, although the majority are Christian while 2 percent are Muslim.
The London-based International Center for the Study of Radicalization and Political Violence estimates that between 100 and 250 Australians have joined Sunni militants fighting in Iraq and Syria. The center estimates only 100 US fighters have arrived from an American population more than 13 times larger.
Counterterrorism units were posted at Australian airports after a terror alert was raised in September. The government said last week that 288 passengers had been prevented from leaving Australia on security grounds since then.