We have heard this before
Analysts not so optimistic about North Korea-US statement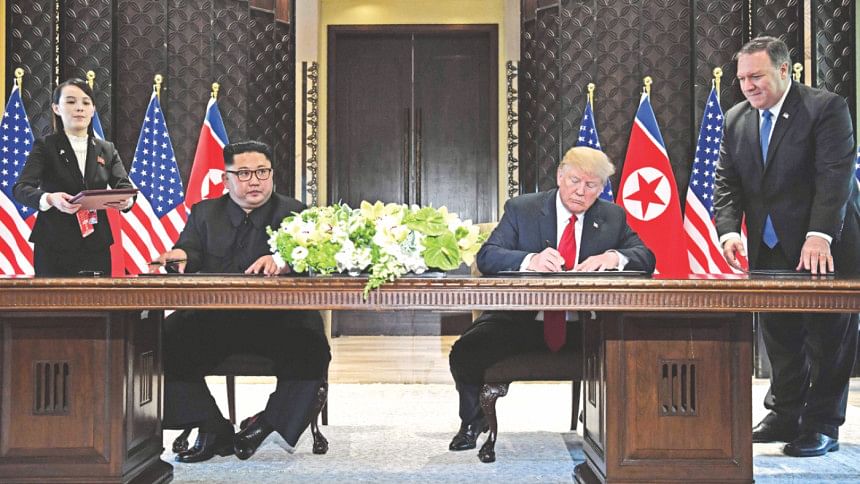 Two key words were conspicuous by their absence from the joint statement signed by US President Donald Trump and North Korean leader Kim Jong Un after their high-profile, soundbite-rich summit in Singapore.
Washington has long said it wants to see the "complete, verifiable and irreversible denuclearisation" (CVID) of the nuclear-armed, ballistic-missile-equipped North.
Each of the words is significant, with the US wanting to ensure Pyongyang allows in inspectors to ensure that it fulfils its promises, and that it does not rebuild any weapons it gives up.
Only on Monday, Secretary of State Mike Pompeo said the US had been "fooled before", with presidents signing agreements only to find "the North Koreans did not promise what they said". "The 'V' matters," he told reporters less than 24 hours before the two leaders put pen to paper. "We will set up a system to verify. It is only that we pursued. That is what has been missed before."
But the V-word did not appear anywhere in the joint statement signed by the two men, and nor did another of Washington's key demands, for "irreversible" denuclearisation.
Instead, the North committed "to work toward complete denuclearisation of the Korean Peninsula".
The phrase is a diplomatic euphemism that is open to wide interpretation on both sides -- Pyongyang has in the past demanded the withdrawal of US troops from the South, and said it will give up its weapons when all other nuclear powers do the same.
Koo Kab-woo, professor at the University of North Korean Studies in Seoul, told AFP: "I think they couldn't reach an agreement on CVID in the end, namely 'V' and 'I'.
For verification, the US probably demanded to have access to anywhere at any time and the North declined."
Irreversibility was even more complicated, he said, as it related to data Pyongyang has accumulated over its decades of weapons development, and reassigning its nuclear scientists.
"That's the core of the 'I' and it seems they failed to reach an agreement on that," he said.
Trump told reporters that there had not been time to discuss the details of denuclearisation. "I'm here one day," he said. "It wasn't a big point today because really this had been taken care of," adding: "It will be verified. We will be verifying."
"There's a danger of myopia in looking at this purely through the lens of details and definition of denuclearisation," said Yonsei University professor John Delury, adding it was "important to take a big step back" and look at the big picture.
And Vienna university Korea expert Ruediger Frank said: "Trump saved the process by taking it slow and one baby step at a time, rather than killing it before it starts -- like his predecessors did despite the best intentions."
But others pointed out the North had made similar promises in the past, and in some cases had gone much further.
In 1993, after talks in New York, the US and North Korea agreed to the principles of "peace and security in a nuclear-free Korean Peninsula". In that statement, Pyongyang agreed to suspend its withdrawal from the Nuclear Non-Proliferation Treaty.
"North Korea committed to nothing that it hasn't done so for 25 years," MIT associate professor of political science Vipin Narang told AFP. "So far, there is no reason to believe this summit produced anything more concrete than that on the disarmament front."
And in 2005 -- just a year before its first nuclear test -- the North went much further, agreeing "to abandoning all nuclear weapons and existing nuclear programmes". It has since detonated five more and developed missiles capable of reached anywhere in the mainland US.
Nonproliferation expert Jeffrey Lewis tweeted: "North Korea is still not offering to disarm."