Tokyo to build world's tallest timber tower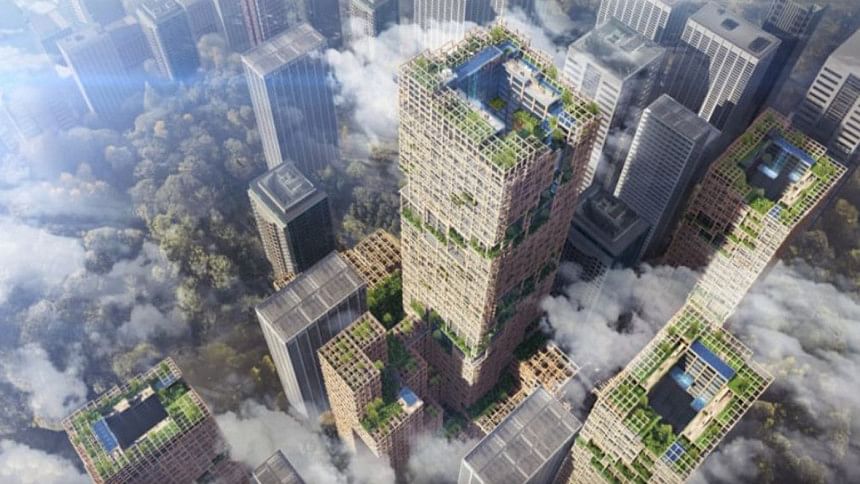 Japanese company Sumitomo Forestry is set to build the world's tallest wooden skyscraper to mark its 350th anniversary in 2041.
The company proposes that the W350 tower is going to be 1,148-feet-tall and will cost an estimated around 600 billion yen ($5.6 billion) to build, reports CNN.
According to CNN report, the 70-story tower will be a hybrid structure made from 90% wooden materials. A steel vibration-control framework will underpin the design -- an important feature in a city where earthquakes are frequent.
Green balconies will populate the skyscraper's exterior, connecting the building to its environment.
"The aim is to create environmentally-friendly and timber-utilizing cities where (cities) become forests through increased use of wooden architecture for high-rise buildings," the company said in a press release.
The Japanese government is trying to encourage more developers to use wood. In 2010, it passed the Promotion of Use of Wood in Public Buildings Act, which required all government buildings up to three stories high to be constructed with wood, or to utilize wood.
Spreading like wildfire
It isn't only Japan where wooden skyscrapers are putting down roots. Over the past decade, there has been a global explosion of timber towers, either built or proposed, every one seemingly a recorder breaker in some respect.
Canada currently holds the world record for the world's tallest timber tower, at 164 feet tall. The 18-story Brock Commons Tallwood House, a student residence, topped out last year at the University of British Columbia (UBC), in Vancouver, and has been dubbed the world's tallest "plyscraper."
Before it topped out, The Treet in Central Bergen, Norway, was the world's tallest timber. It took that title in 2014 from the 10-story, 104-feet-high Forte residential block, which overlooks Melbourne's Victoria Harbour and was completed in 2012.
Meanwhile, the Oakwood Tower is a proposed joint project by PLP Architecture and Cambridge University's Department of Architecture. It's been called an experiment in pushing the frontiers of building with wood.
The 80-story tower, if given the green light for construction, will be London's first wooden skyscraper. At 1,000 feet tall, it would only be overshadowed in London by The Shard.
Branching out
New types of ultra-strong timber are partly driving the trend for wooden buildings. "There's a whole bunch of new materials made out of wood that are structurally able to build big buildings," says Dr Michael Ramage, of the Center for Natural Material Innovation at Cambridge University.
Cross-laminated timber, for example, sees thin layers of wood placed across one another at right angles, and laminated with fire-resistant glue to create a stronger weave.
But it's bamboo -- a material that has been used in Asian construction for centuries -- that most interests Ramage. With a five-times higher growth rate than wood, but similar mechanical properties, there are 31.4 million hectares of bamboo worldwide, according to the Food and Agricultural Organization.
"We're working on engineered bamboo," says Ramage. "We can take the walls of bamboo tubes, cut them up into rectangles and glue them into big slabs. You get large pieces of what looks like lumber. But it's stronger than timber."
Kevin Flanagan, a partner at PLP architects, adds that in the future he can imagine the industry genetically modifying wood to make it even more conducive to high-rise construction.
London's burning?
Obviously, when it comes to wooden buildings, there's one burning question. Are timber skyscrapers a fire hazard?
Ramage says Oakwood Tower -- an extension of the Barbican Center in Central London -- would exceed Britain's fire standards of regular steel and concrete buildings. His center has been awarded £250,000 ($353,785) from the Engineering Physical Sciences Research Council in the UK to research timber construction techniques, such as fire proofing.
"There is a huge perception problem," says Ramage. "Timber doesn't burn in the way the public imagines. The great fires of London and Chicago were both sparked by very small pieces of wood. Very big pieces of wood are quite hard to set on fire -- they aren't kindling material."
Wood, he says, burns predictably. Therefore, fire engineers can calculate how large a block of wood is needed to provide a protective layer to sustain a building for a certain period of time.
"All buildings over a certain size need to have sprinklers and active fire suppression systems -- irrelevant of whether it's wood, concrete or steel," he adds.
A series of blazes at Dubai skyscrapers in recent years have highlighted that it isn't just timber buildings at risk of catching fire.
Aren't we meant to be saving the rainforest?
The other potential problem with using wood is the depletion of our forests. According to the World Wildlife Organization, up to 58,000 square miles of forest are lost each year -- that's equivalent to 48 football fields every minute.
Forests cover approximately two thirds of Japan, but Sumitomo Forestry says many of the cedar and cypress trees planted after the Second World War, which are now ready for harvesting, are "being left in an unmaintained state." The company argues that increased timber demand will promote better maintenance of forests and encourage communities to ensure their sustainability.
Ramage adds that "Russia has huge timber reserves, largely because we're finally using less paper." Furthermore, he says, wood is, on average, four times lighter than concrete, so transporting it uses less energy.
From the magnificent Tudor timber arches of Westminster Hall in London to the wooden rooftops of the Forbidden City in Beijing, wood has been used to construct some of the world's most beautiful, iconic buildings. And they haven't fallen victim to rot.
"We know from a very long history of building in wood it can last -- we have 600, 700-year-old buildings in the UK which are fine," says Ramage. "The one constant they have is that they have all been well looked after."