Singapore flats get giant art on their facades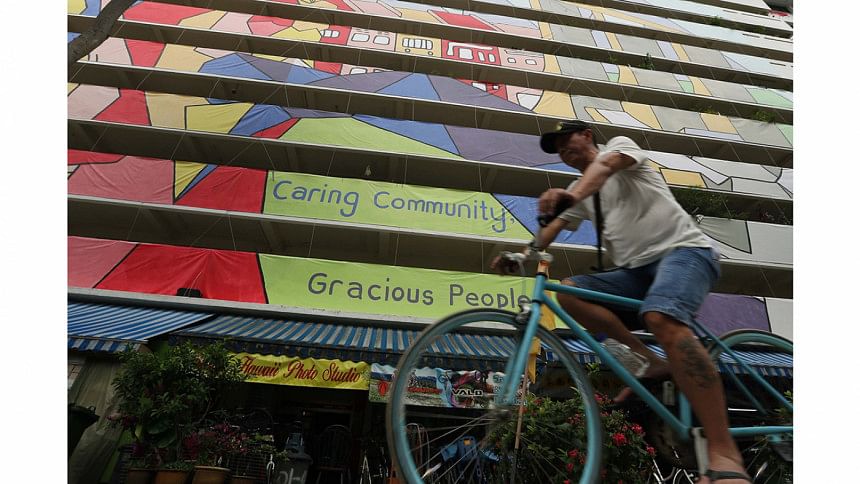 Painting on canvas is all in a day's work for an artist, but creating and assembling dozens of panels into a massive work of art of up to 900 sq m is no mean feat.

Some 100 artists and 50,000 residents got together for this year's PAssionArts Festival to adorn the facades of 105 Housing Board blocks with large-format art installations in celebration of the nation's 50th birthday.

Yeoh Wee Hwee, the artist behind the facade at Block 370, Tampines Avenue 7, said it took three days and more than 200 volunteers to paint and install the 36 strips of canvas that were strung together to form the image of a maze.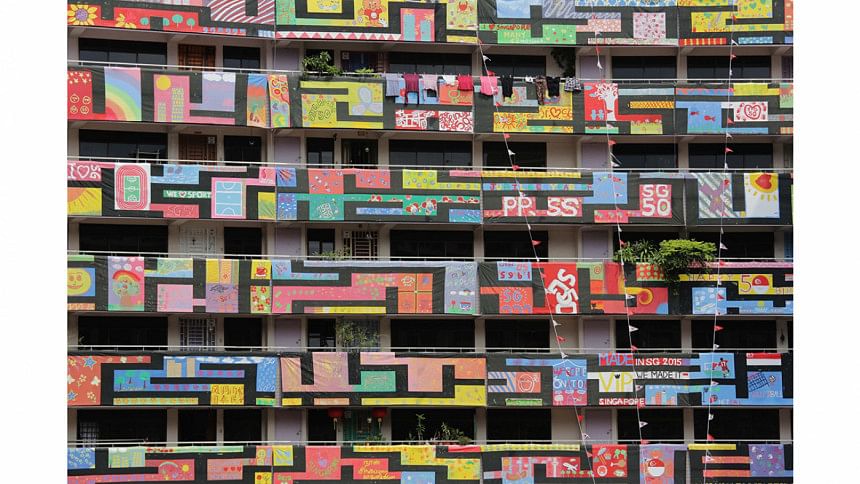 Volunteers included residents as well as students, staff and alumni of Pasir Ris Secondary School. They were given the opportunity to create the design by choosingtheir colours to paint with and adding images of things they like most about Singapore, such as food or scenery.

Yeoh, 37, said the inspiration behind the design, titled AMAZEing Life, came from her thoughts on "how the journey of life is like a maze - we don't know where every turn will take us". She added: "But ultimately, we hopefully return to a place we call home."
The biggest challenge, she said, was scaling her design to fit the 6.5m by 1.5m canvas pieces together over six storeys.

Artist Muhammed Faizal, whose facade at Block 58, Marine Terrace, features icons such as the Singapore Flyer and Merlion, said the building's structure presented unique challenges.

"There are gaps in between corridors, so you have to adjust everything to avoid them or you'll end up with one eye missing or misaligned," he said. The 28-year-old, who has participated in four other PAssionArts projects, enlisted the help of 200 Marine Parade residents over two days. Some were as young as five.

"There was even a family of tourists from India who walked by and saw what we were doing, and they helped to paint for about an hour before they flew back later that night," he said.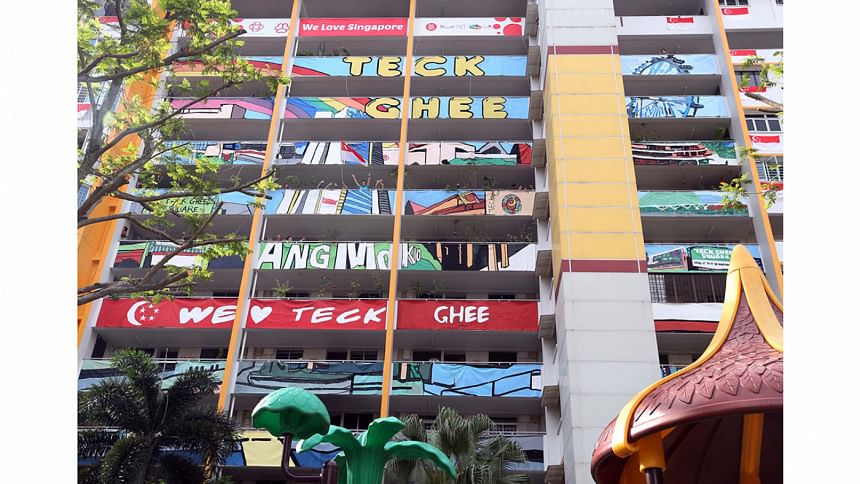 Elizabeth Ng, chairman of the Marine Parade Community Centre's Community Arts and Culture Club, rallied residents to participate and helped to oversee the painting sessions.

"Getting people to do what you want them to was a challenge, especially with the kids," said Ng, 58, a Marine Parade resident.

She said the effort was "backbreaking, but rewarding".

"The residents are proud of their work. They will stand at the traffic lights to take photos, and show their work off to residents of other blocks," she said.

Copyright: Asia News Network